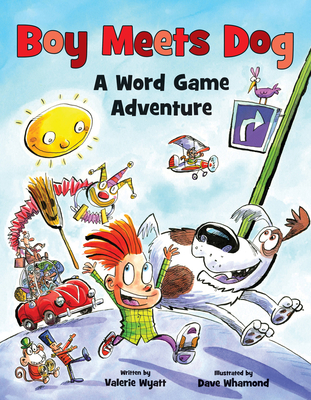 Boy Meets Dog: A Word Game Adventure (Hardcover)
A Word Game Adventure
Kids Can Press, 9781554538249, 32pp.
Publication Date: August 1, 2013
Description
In this entertaining picture book by award-winning author Valerie Wyatt, ?strange things happen if you change just one letter in a word.? For example, a toy could become a boy (easy, just change the t to a b). Or, a house might become a mouse and then a moose (change the h to m and then the u to o). Lewis Carroll first created this game of turning one word into another by changing only one letter at a time. Most often called word ladders, the game is introduced in this book to young children through a humorous story featuring a toy that becomes a boy and his loyal dog, who find themselves taking a walk through a funny, mixed-up town.
As visual aids, the first and last words of each ladder are highlighted in the text of the story, and a vertical list of all the words in the ladder is written separately, with the one changed letter also highlighted: ?Tiny may become huge. / tiny-tine-line-lone-lore-lure-luge-huge.? Wacky, high-energy illustrations by Dave Whamond bring the silliness to life. Making letters and words fun is one of the best ways to cultivate and enhance a child's enjoyment of reading. Playing word ladders can help children increase vocabulary, improve spelling, discover common letter combinations and learn about vowels and consonants. The back of the book provides background on word ladders, as well as classroom activities for children to create their own word ladders or follow an assigned ladder.
About the Author
Valerie Wyatt is an award-winning author more than 14 nonfiction books, many of them about science. She also writes on historical topics and, from time to time, picture books.Dave Whamond is an illustrator and cartoonist whose work bursts with energy and humor. His syndicated cartoon, Reality Check, can be found in newspapers around the world. Dave lives in Calgary, Alberta.
Advertisement