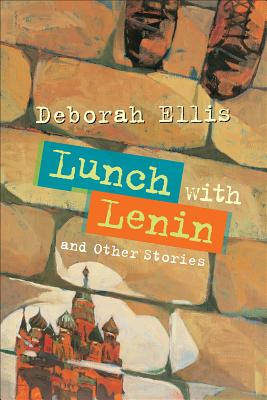 Lunch with Lenin and Other Stories (Paperback)
Fitzhenry & Whiteside, 9781554551057, 169pp.
Publication Date: October 3, 2008
Description
On Resource Link's Best of 2008 List
On the Cooperative Children's Book Center Best-of-the-Year list for 2009
Canadian Children's Book Centre Our Choice, 2009 Starred Choice
Ontario Library Association's Golden Oak Award nominee
OLA's Red Maple nominee 2010
Deborah Ellis's first collection of short stories explores the lives of children who have been affected directly, or indirectly, by drugs. Sometimes touching and often surprising, the stories are set against backdrops as diverse as the remote north and small town America to Moscow's Red Square and an opium farm in Afghanistan.
This is an unforgettable collection of stories that will elicit discussions about the toll drugs take on the lives of teenagers and their families.
About the Author
Deborah Ellis is the internationally acclaimed author of more than twenty books for children, including the Breadwinner trilogy, The Heaven Shop, Jakeman, and Bifocal, which she co-wrote with Eric Walters. A peace activist and humanitarian, Deborah has traveled the world to meet with and hear the stories of children marginalized by poverty, war, and illness.
Praise For Lunch with Lenin and Other Stories…
This gripping collection of young adult short stories delivers a chilling portrayal of "those who struggle to make their way" (to whom the book is dedicated). It is a subtle and sophisticated collection that requires careful previewing for classroom appropriateness prior to being offered to students. With that proviso in place, I highly recommend it. The stories depict the lives of 10 teenagers who are directly or indirectly involved with drugs. Their vivid lives and desperate situations are portrayed in simple language, but their experiences are as complex as they are heartbreaking. Settings include locations in North America, Afghanistan, Russia, the Philippines, Mongolia and Bolivia. In the first story we meet Matthew, a straight-A student who rolls and smokes a joint with his grandmother in her nursing home to ease her physical pain. The following nine stories are equally full of thought-provoking contexts and social issues. From the opium fields of Afghanistan to hardcore heroin addicts on the streets of Moscow, we see the similarities of lives controlled and often destroyed by drugs. Crystal meth, ecstasy, glue sniffing, child neglect, police corruption and rehab are just a few of the themes that may prompt discussions about rich and poor, right and wrong, the war on drugs and whether the end justifies the means.   Professionally Speaking   Andrea Murik, OCT, is a Special Education resource teacher at Angus Morrison Elementary School in Angus.
Advertisement