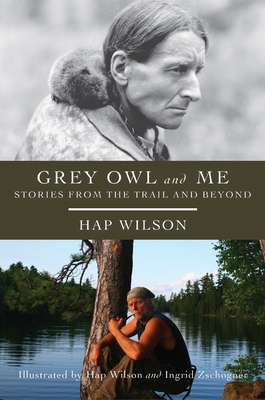 Grey Owl and Me: Stories from the Trail and Beyond (Paperback)
Stories from the Trail and Beyond
Natural Heritage Books, 9781554887323, 242pp.
Publication Date: June 28, 2010
Description
A self-taught artist and photographer, Hap Wilson has travelled over sixty thousand kilometres by canoe and snowshoe, and embarked on more than three hundred wilderness expeditions. He is one of North America's best-known wilderness guides and canoeists, and has been building sustainable trails for more than thirty years. He is also the co-founder of the environmental group Earthroots. He lives in Rosseau, Ontario. for more information, please visit Hap's website at www.eskakwa.ca.
Ingrid Zschogner is a self taught artist and outdoor enthusiast who has been creating detailed portraits in oil, graphite, and pastel for more than fifteen years. She is also a professional trailbuilder, wilderness guide, and environmental activist. To view Ingrid's portfolio, please visit her website at www.wildrosedesigns.ca.
Praise For Grey Owl and Me: Stories from the Trail and Beyond…
If you enjoyed [Hap Wilson's] other hilarious and jaw-dropping memoirs, you won't be disappointed. This one, too, is sprinkled with sparks of brilliant and insightful writing.


"Now Im sitting here with 10 good quotes and double entendres from Grey Owl that I would like to drop into this review, but Im pretty sure none of them would fly with the editor (whats French for seal again?) so Im going to leave them out. Suffice it to say that even though there is a strong environmental aspect to the book and that environmental awareness is clearly the main order here, Grey Owl and Me is often just way too fun to be clean, and the really clean parts arent that quotable. But thats just how Hap [Wilson] rolls. If you want environmentalism with some edge, I cant think of a better place to jump in than right here."
Advertisement