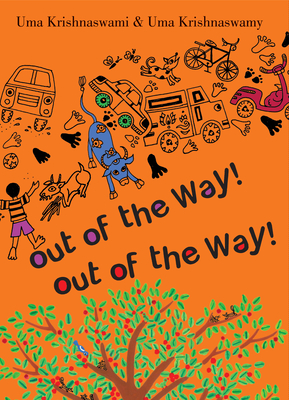 Out of the Way! (Hardcover)
Groundwood Books, 9781554981304, 20pp.
Publication Date: March 27, 2012
* Individual store prices may vary.
Description
A young boy spots a baby tree growing in the middle of a dusty path in his village. He carefully places rocks around it as the local mango seller rushes past shouting, Out of the way Out of the way As the tree grows bigger, people and animals traverse the path until it becomes a lane, flowing like a river around the tree getting out of its way. Over time, the lane becomes a road, and a young man crossing the road with his children remembers the baby tree from long ago. By the time he is an old man, the tree has become a giant. The city traffic continues to rattle past, noisier and busier than ever, but sometimes the great tree works its magic, and people just stop, and listen.
In this simple, lyrical story, a wide-spreading tree and a busy road grow simultaneously, even as time passes and the footsteps of people and animals give way to speeding cars, buses and trucks. The illustrations, in pen-and-ink with vibrant blocks of color, have a classic folk-art feel.
The author and illustrator, who really do share the same name (except for the last letter ), have always wanted to do a book together.
For an author interview about Out of the Way Out of the Way go to http: //www.youtube.com/watch?v=jXu36ODu8DQ&feature=player_embedded.
About the Author
Uma Krishnaswami s inspiration for this book came from her memory of planting a mango seed as a child and seeing it grow into a tree, and also from a news story about people who planted trees in potholes. She has written many children s books, from picture books to middle grade readers to retellings of classic tales and myths, including Bringing Asha Home (CCBC Choices), The Happiest Tree (Paterson Prize finalist, CCBC Choices, Bank Street College Best Books), Naming Maya (IRA Notable Books for a Global Society) and Chachaji s Cup (Paterson Prize for Books for Young People, Bank Street College Best Books). Her latest middle grade novel, The Grand Plan to Fix Everything, published by Atheneum, received starred reviews in Kirkus and School Library Journal. She teaches at Vermont College of Fine Arts in the MFA program in Writing for Children and Young Adults and is an active blogger.Krishnaswami was born in New Delhi, India, and now lives in Aztec, New Mexico. Uma Krishnaswamy divides her time between illustrating picture books and teaching art to young adults. She has illustrated many books, including A Dollop of Ghee and A Pot of Wisdom, Dancing on Walls and The Boastful Centipede and Other Creatures in Verse. She enjoys mixing styles of art from all over the world, but her main inspiration comes from the rich art and craft tradition of India. Her illustrations in Out of the Way! Out of the Way! are a blend of different folk styles. I think the end result is a happy mix of black and white and colour, which reflects the beauty, chaos and confusion that is India, Krishnaswamy says. She lives in Chennai, India. "
Praise For Out of the Way!…
"The title, used very effectively as a refrain throughout the book, emphasizes that change is hurrying us along much faster than we want to go."The New York Times

"it's a rare thing: a book about generations and growth that doesn't come across as preachy."Publishers Weekly

"A great book to use as a tie-in to environmental units as well as multicultural connections."School Library Journal

"Groundwood adds yet another superior title to their long list of imaginative picture books. An accidental kind of learning occurs when reading Out of the Way! Out of the Way! and isn't that the best kind?"CM Magazine

"The message to stop and smell the roses (or enjoy the tree) comes through effectively as spreads become more and more saturated with imagery that crowds out the white space."Kirkus


"One day a boy spotted something small and green in the middle of the path.
'A baby tree,' he said.
He took some rocks and put them all around it.
'Hey, you,' called a mango seller, hurrying past. 'Out of the way, out of the way!'"
from the book
or
Not Currently Available for Direct Purchase