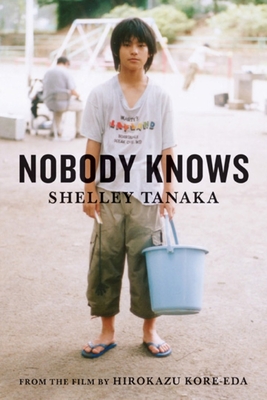 Nobody Knows (Hardcover)
Groundwood Books, 9781554981403, 143pp.
Publication Date: August 7, 2012
Other Editions of This Title:
Paperback (6/24/2014)
* Individual store prices may vary.
Description
It's autumn in Tokyo, and twelve-year-old Akira and his younger siblings, Kyoko, Shige and little Yuki, have just moved into a new apartment with their mother. Akira hopes it's a new start for all of them, even though the little ones are not allowed to leave the apartment or make any noise, since the landlord doesn't permit young children in the building. But their mother soon begins to spend more and more time away from the apartment, and then one morning Akira finds an envelope of money and a note. She has gone away with her new boyfriend for a while. Akira bravely shoulders the responsibility for the family. He shops and cooks and pays the bills, while Kyoko does the laundry. The children spend their time watching TV, drawing and playing games, wishing they could go to school and have friends like everyone else. Then one morning their mother breezes in with gifts for everyone, but she is soon gone again. Months pass, until one spring day Akira decides they have been prisoners in the apartment long enough. For a brief time the children bask in their freedom. They shop, explore, plant a little balcony garden, have the playground to themselves. Even when the bank account is empty and the utilities are turned off and the children become increasingly ill-kempt, it seems that they have been hiding for nothing. In the bustling big city, nobody notices them. It's as if nobody knows. But by August the city is sweltering, and the children are too malnourished and exhausted even to go out. Akira is afraid to contact child welfare, remembering the last time the authorities intervened, and the family was split up. Eventually even he can't hold it together any more, and then one day tragedy strikes... Based on the award-winning film by Kore-eda Hirokazu, this is a powerfully moving novel about four children who become invisible to almost everyone in their community and manage -- for a time -- to survive on their own

About the Author
Shelley Tanaka is an award-winning author, translator and editor. She has written more than twenty books for children and young adults, winning the Orbis Pictus Award, the Mr. Christie's Book Award, the Science in Society Book Award and the Information Book Award, and she has twice been nominated for the Deutsche Jugendliteraturpreis. Other honors include Texas Blue Bonnet runner-up, School Library Journal Best Books, ALA Notables and IRA Young Adults' Choice. Her translation of Michel Noel's Good for Nothing won the Geoffrey Bilson Award for Historical Fiction for Young People and was on the IBBY Honor List (Commended). Tanaka teaches at Vermont College of Fine Arts, in the MFA Program in Writing for Children and Young Adults. She lives in Kingston, Ontario.
Praise For Nobody Knows…
"Akira looked around the apartment. At the garbage, the mess. The filthy sheets and quilts that they couldn't wash anymore because there was no water. At Shige's dirty feet, Kyoko clutching their mother's blouse with the white flowers on it. At Yuki's big, big eyes just staring at him."
from the book
or
Not Currently Available for Direct Purchase