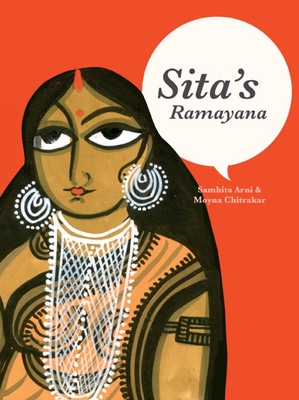 Sita's Ramayana (Hardcover)
Groundwood Books, 9781554981458, 152pp.
Publication Date: September 27, 2011
Other Editions of This Title:
Hardcover (3/1/2012)
* Individual store prices may vary.
Description
The Ramayana is an epic poem by the Hindu sage Valmiki, written in ancient Sanskrit sometime after 300 BC. It is an allegorical story that contains important Hindu teachings, and it has had great influence on Indian life and culture over the centuries. Children are often encouraged to emulate the virtues of the two main characters -- Rama and Sita. The Ramayana is frequently performed as theater or dance, and two Indian festivals -- Dussehra and Divali -- celebrate events in the story. This version of The Ramayana is told from the perspective of Sita, the queen. After she, her husband Rama and his brother are exiled from their kingdom, Sita is captured by the proud and arrogant king Ravana and imprisoned in a garden across the ocean. Ravana never stops trying to convince Sita to be his wife, but she steadfastly refuses his advances. Eventually Rama comes to her rescue with the help of the monkey Hanuman and his army. But Rama feels he can't trust Sita again. He forces Sita to undergo an ordeal by fire to prove herself to be true and pure. She is shocked and in grief and anger does so. She emerges unscathed and they return home to their kingdom as king and queen. However, suspicion haunts their relationship, and Sita once more finds herself in the forest, but this time she is pregnant. She has twins and continues to live in the forest with them. The story is exciting and dramatic, with many turns of plot. Magic animals, snakes, divine gods, demons, sorcerers and a vast cast of characters all play a part in the fierce battles fought to win Sita back. And in the process the story explores ideas of right vs. wrong, compassion, loyalty, trust, honor and the terrible price of war.
About the Author
Samhita Arni has been interested in Hindu mythology since she was a child. She has written The Mahabaharata: A Child's View, a version of another great Indian epic, which has been translated into seven languages and was named Book of the Month by the German Academy for Youth Literature and Media, and one of the Best Published Books of 2004 by the Spanish Ministry of Culture. It also won the Elsa Morante Literary Award (Department of Culture, Campania, Italy). Samhita has also written scripts for film and television and is currently working on a thriller based on The Ramayana. She lives in Bangalore, India. Moyna Chitrakar is an artist and performer from the Patua scroll painting tradition. She is also the illustrator of the unique scroll book Tsunami, published by Tara Books.
Praise For Sita's Ramayana…
A 2012 USBBY Outstanding International Book

An ALA Notable Children's Book, 2012

A Texas Library Assocation 2012 Maverick Graphic Novel (Grades 9-12)

A South Asia Book Award 2012 Honor Book

"A must-purchase based on the strength of its dramatic story and arresting art, enhanced by superior design and high-quality production. Brilliant and fresh." School Library Journal, starred review

"gorgeous, vibrant illustrationsIt is an accomplishment" Booklist, starred review

"A vibrantly illustrated graphic-novel retelling of an ancient Indian legendA valuable piece of historical literature brought to the forefront for thoughtful new readers." Kirkus