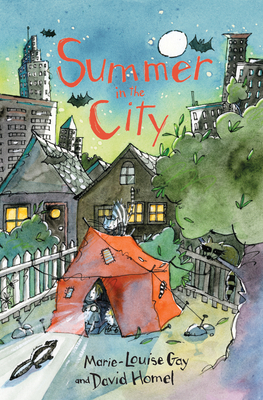 Summer in the City (Hardcover)
Groundwood Books, 9781554981779, 150pp.
Publication Date: March 27, 2012
Description
Charlie can't wait for school to be over. But he's wondering what particular vacation ordeal his parents have lined up for the family this summer. Canoeing with alligators in Okefenokee? Getting caught in the middle of a revolutionary shootout in Mexico? Or perhaps another trip abroad? Turns out, this summer the family is staying put, in their hometown. Montreal, Canada. A "staycation," his parents call it. Charlie is doubtful at first but, ever resourceful, decides that there may be adventures and profit to be had in his own neighborhood. And there are. A campout in the backyard brings him in contact with more than one kind of wildlife, a sudden summer storm floods the expressway, various pet-sitting gigs turn almost-disastrous, and a baseball game goes awry when various intruders storm the infield -- from would-be medieval knights and an over-eager ice-cream vendor to a fly-ball-catching Doberman. Then of course there's looking after his little brother, Max, who is always a catastrophe-in-the-making.
About the Author
Marie-Louise Gay is a world-renowned author and illustrator of children's books. She has a long and stellar list of major awards to her credit, including two Governor General's awards, the Marilyn Baillie Picture Book Award, the Amelia Frances Howard-Gibbon Award, the Mr. Christie's Book Award and the Elizabeth Mrazik-Cleaver Award. She has also been nominated for the Hans Christian Andersen Award. She is best known for her Stella and Sam books, which have been published in more than fifteen languages. Born and raised in Chicago, David Homel is an award-winning novelist, screenwriter, journalist and translator. He is a two-time winner of the Governor General's Award for translation, and the author of six novels, including The Speaking Cure (winner of the Hugh Maclennan Prize and the Jewish Public Library Award for fiction) and, most recently, Midway (described by the Globe and Mail as "finely crafted, intelligent and moving").
Praise For Summer in the City…
"Summer in the City works as an easy transition for kids making the step up from picture books."—Quill and Quire

"…this volume is made even livelier and more enjoyable by the numerous pen-and-ink/watercolour illustrations that have made Marie-Louise Gay such a recognized name in Canadian children's literature."—Montreal Gazette

"An upbeat summer idyll likely to draw chuckles whether read alone or aloud."—Kirkus


"Was this supposed to be a change? No way. We lived here every day of the year. I knew every detail by heart . . . A vacation means going, not staying."
from the book
Advertisement