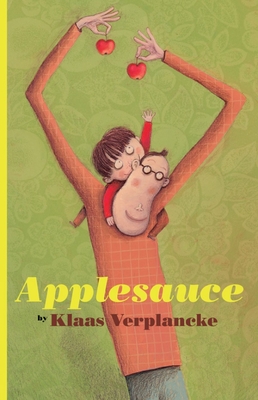 Applesauce (Hardcover)
Groundwood Books, 9781554981861, 40pp.
Publication Date: July 24, 2012
* Individual store prices may vary.
Description
Johnny's daddy has smooth cheeks, an apple in his throat and sounds like a mom when he sings in the bath. At other times a cactus grows out of his chin and his breath smells like cauliflower. At times he has warm hands and his fingers taste like applesauce. Other times his hands are cold and flash like lightning, and he becomes a thunder-daddy. When this happens Johnny wants to find a new daddy, but he eventually realizes that thunder-daddies don't last forever. And that there's nothing like the comfort that comes from those we love. Klaas Verplancke's story, with its humorous, energetic and imaginative illustrations, will strike a chord with many young children and parents as they discover that love sometimes means setting limits, and that people do get angry, but that where there is love, it doesn't last.
About the Author
Klaas Verplancke is world-renowned illustrator, author and graphic designer who has exhibited his work in his native Belgium and abroad. His illustrations typically reveal his sense of humor, poetic imagination, and somewhat surrealistic view of reality. He has won the Bologna Ragazzi Award, was a finalist for the Hans Christian Andersen Award and has been nominated six times for the Astrid Lindgren Memorial Award for his oeuvre as a whole. His inspiration for this book came from his close relationship with his young son who "collapsed like a pudding" when he felt that their father-son friendship was compromised as limits were inevitably put in place. He lives in Brugge, Belgium. On the book: "Applesauce is sweet and warm. It is a metaphor for coming home, back to the nest. Being young means exploring, crossing borders, taking risks, but after adventure and play, every child needs to come home to warm arms, to rest and feel safe. That is my role as a father: offering protection, forgiving, leading and guiding, and always ready. It's a great responsibility but also a great joy. More than food and drink, people need a home, not made of stone, but built with love, family and friends. That's the essence of all the stories I've written so far."
Praise For Applesauce…
"My daddy has smooth cheeks and an apple in his throat. He sounds like a mom when he sings in the bath."
— from the book