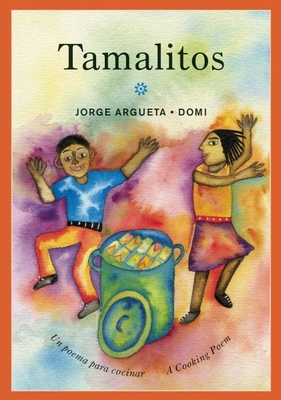 Tamalitos: Un Poema Para Cocinar/A Cooking Poem (Hardcover)
Un Poema Para Cocinar/A Cooking Poem
Groundwood Books, 9781554983001, 32pp.
Publication Date: March 26, 2013
Description
In his fourth cooking poem for young children, Jorge Argueta encourages more creativity and fun in the kitchen as he describes how to make tamalitos from corn masa and cheese, wrapped in cornhusks. In simple, poetic language, Argueta shows young cooks how to mix and knead the dough before dropping a spoonful into a cornhusk, wrapping it up and then steaming the little package. He once again makes cooking a full sensory experience, beating on a pot like a drum, dancing the corn dance, delighting in the smell of corn . . . And at the end, he suggests inviting the whole family to come and enjoy the delicious tamalitos made of corn with love. Domi's vivid paintings, featuring a sister and her little brother making tamalitos together, are a perfect accompaniment to the colorful text.
About the Author
Jorge Argueta is a native Salvadoran and Pipil Nahua Indian. He is an award-winning author of picture books and poetry for young children. He lives in San Francisco. Domi's wonderful illustrations appear in many children's books, including the Napi titles by Antonio Ramirez as well as The Night the Moon Fell and The Race of Toad and Deer by Pat Mora. She is Mazateca and lives in Oaxaca, Mexico.
Advertisement