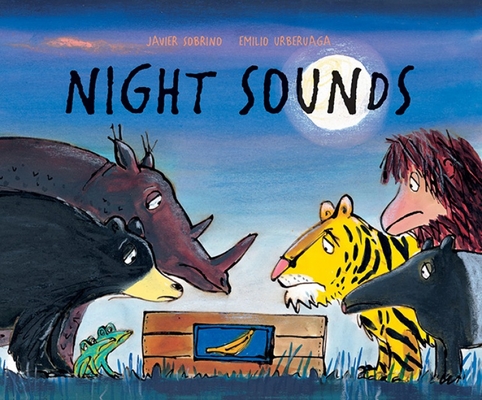 Night Sounds (Hardcover)
Groundwood Books, 9781554983322, 36pp.
Publication Date: March 26, 2013
Description
When the moon comes up over the mountains, all the animals in the rain forest go to sleep. But, what's that noise? And how can the animals make it stop? Wuaaah, wuaaah, wuaaah. The noise goes on and on. Cuddled up inside an abandoned box, someone is sobbing, and one by one, the animals try to comfort the little one. But with each offering of a blanket, some fresh water, mango, and so on the small creature settles only briefly before wailing once again. Finally, Tiger disappears and returns with the little creature's mother. Peace is restored, until . . . Wuu, wuu, wuuuuuu, cries a child in a nearby village. This time, it is the little creature who solves the problem by yelling out, That child must have a kiss Then we can all go back to sleep.
About the Author
Javier Sobrino was born in Asturias, Spain. He has been a primary school teacher since 1984 and has published more than fifteen books for children, twelve of them picture books. He lives in Tinas, Asturias, Spain. Emilio Urberuaga was born in Madrid. He has been one of Spain s leading illustrators since 1982, and he has had major exhibitions of his work. In 2011 he won the National Illustration Prize, given by Spain s Ministry of Culture. He lives in Madrid. "
Advertisement