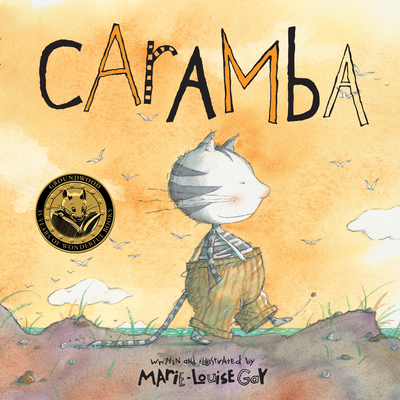 Caramba (Hardcover)
Groundwood Books, 9781554983902, 40pp.
Publication Date: September 24, 2013
* Individual store prices may vary.
Description
Award-winning author and illustrator Marie-Louise Gay, best known for her Stella and Sam books, brings us an endearing character in Caramba, a sweet, shy cat who bravely accepts that he is different, and then discovers his own special talent. Caramba is a fat, furry, striped cat with a big problem. Every single cat in the world can fly, he sighs, except me Caramba would love to swoop and glide between the clouds, to feel the wind whistling through his fur. He tries to soar into the sky over and over again but always lands flat on his face, until finally he sadly accepts that he is earthbound. Don't be such a scaredy-cat, cry his cousins. All cats are meant to fly They grab his paws and whisk him up into the sky for an impromptu flying lesson that ends with a big splash and a surprising discovery.

About the Author
Marie-Louise Gay is a world-renowned author and illustrator of children's books. She has won many prestigious awards, including the Governor General's Award, the Elizabeth Mrazik-Cleaver Award, the Vicky Metcalf Award and the Marilyn Baillie Picture Book Award. She has also been nominated for the Astrid Lindgren Memorial Award and the Hans Christian Andersen Award. Her books have been translated into more than fifteen languages and are loved by children all over the world. She lives in Montreal, Quebec.