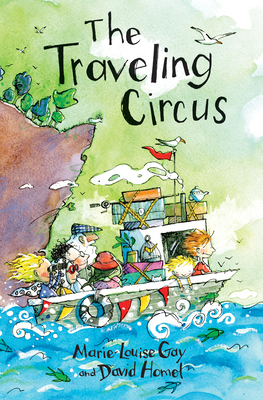 The Traveling Circus (Hardcover)
Groundwood Books, 9781554984206, 144pp.
Publication Date: April 14, 2015
* Individual store prices may vary.
Description
Charlie and his family are about to embark on another trip, to another out-of-the-way place off the beaten path. This time they are heading to an island in Croatia -- an incredibly beautiful country that lives in the shadow of war and conflict. Even for a seasoned traveler like Charlie, Croatia is a very different experience: the language is unfamiliar and half the words have no vowels, goats are a traffic-calming device, and red cliffs loom like fortresses over an impossibly blue sea. Still, Charlie and his little brother, Max, manage to find adventure wherever they go. There's cliff diving, pigs on spits, hair-raising ferry crossings and snake juice for breakfast. There's a sober side to their adventures this time, too, as Charlie finds out that this area of the world has a long and troubled history. But he also discovers that you don't need to speak the same language to communicate with people. Not when you're having a party in a field, surrounded by goats and dancing in the glow of car headlights with the radio blaring out Croatian music. A warm, funny and thought-provoking book that celebrates a child's love of adventure and boundless curiosity about the world.
About the Author
Marie-Louise Gay is a world-renowned author and illustrator of children's books. She has been nominated for the Hans Christian Andersen Award and has two Governor General's awards to her credit. She is best known for her Stella and Sam books, which have been published in more than fifteen languages. David Homel is an award-winning novelist, screenwriter, journalist and translator. He is a two-time winner of the Governor General's Award for translation, and the author of ten novels, including The Speaking Cure (winner of the Hugh MacLennan Prize and the Jewish Public Library Award for fiction) and, most recently, The Fledglings.