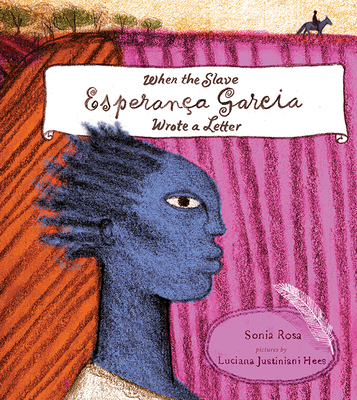 When the Slave Esperanaa Garcia Wrote a Letter (Hardcover)
Groundwood Books, 9781554987290, 48pp.
Publication Date: October 6, 2015
* Individual store prices may vary.
Description
In 1770, the slave Esperanca Garcia bravely penned a letter to the governor of Piaui state, in Brazil, describing how she and her children were being mistreated and requesting permission to return to the farm where the rest of her family was living. Before she wrote her letter, Esperanca Garcia lived on a cotton farm run by Jesuit priests, where she learned to read and write a rare opportunity for a woman, especially a slave. But one day she was separated from her husband and older children and taken with her two little ones to be a cook in the home of Captain Antonio Vieira de Couto, where she and the other slaves were beaten. In despair, she wrote to the governor about her terrible situation. She waited each day for a reply, never giving up hope, and although she never received an answer, she is remembered today for being the courageous slave who wrote the first letter of appeal in Afro-Brazilian Brazil. Commemorating the date of the letter's discovery, September 6th has become Black Consciousness Day in Piaui state. This moving picture book provides a personal look at the tragic history of slavery.
About the Author
Sonia Rosa was born in Rio de Janeiro. She is a teacher with a specialty in reading, culture and African history. She has written more than35 books, and her work has been recognized by the Brazilian chapter of the International Board on Books for Young People (FNLIJ) and the White Ravens Catalogue. She lives in Rio de Janeiro, Brazil. Luciana Justiniana Hees has illustrated a number of books with African and Afro-Brazilian themes. An exhibition of her work was held at the Franco-Mozambican Cultural Center in Maputo in 2010. Her short film O Salao Azul was selected for the International Film Festival in Rotterdam in 2011. She lives in Lisbon, Portugal. Jane Springer lives in Toronto."