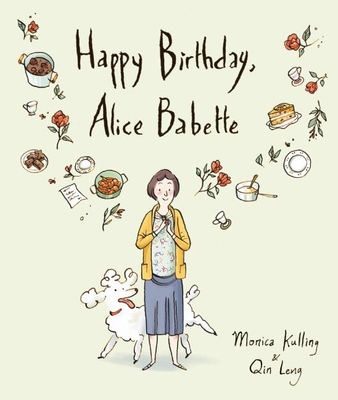 Happy Birthday, Alice Babette (Hardcover)
Groundwood Books, 9781554988204, 32pp.
Publication Date: April 12, 2016
* Individual store prices may vary.
Description
It's Alice's birthday But her friend Gertrude seems to have forgotten. No matter, Alice goes out and enjoys her day just the same. A beautiful spring afternoon in Paris -- what could be better? Little does she know that her dear friend has a few surprises up her sleeve. While Alice spends the day walking around Paris -- riding a carousel in the park and watching a puppet show -- Gertrude turns her attention to the kitchen. She is determined to make a lavish dinner with all of Alice's favorite things and write a poem to match the occasion. But the lure of the perfect poetic line proves to be too distracting, and just as Alice's day takes an exciting and unexpected turn, Gertrude's big dinner falls all to pieces. The poem turns out beautifully, of course, but the house is a bit of a mess. It's a good thing Alice doesn't mind cleaning up. And that she has such a good brownie recipe for their guests. Inspired by the lives of artist Gertrude Stein and Alice B. Toklas, Monica Kulling's warm and whimsical narration is perfectly balanced by Qin Leng's bright and energetic illustrations. This is a sweetly joyful story of love, friendship and creative inspiration.

About the Author
Monica Kulling is the author of over forty books for children, including the popular Great Idea series, stories of inventors. The third book in the series, In the Bag! Margaret Knight Wraps It Up, was nominated for the 2012 Governor General's Award for illustration and chosen as the 2012 Simon Wiesenthal Honor Book. In addition, Monica's work has been nominated for numerous Silver Birch Express and Golden Oak awards. Her recent picture books include Lumpito and the Painter from Spain, Mister Dash and the Cupcake Calamity and The Tweedles Go Electric. Monica Kulling lives in Toronto. Qin Leng lives and works as a designer and illustrator in Toronto. She graduated from the Mel Hoppenheim School of Cinema and has received many awards for her animated short films and artwork. She has published numerous picture books in Canada, the United Kingdom, the United States, France, Sweden, Hong Kong and South Korea for publishers such as Inhabit Media, Second Story Press, Annick Press, Chirp Magazine, Simply Read Books, Kids Can Press, Usborne, Mathew Price, Gallimard Jeunesse, Elephant Community Press and Dominique et Compagnie. She has also illustrated for Save the Children and UNICEF.