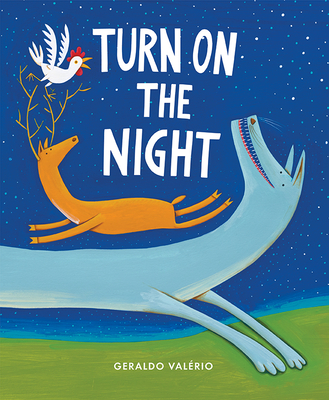 Turn on the Night (Hardcover)
Groundwood Books, 9781554988419, 40pp.
Publication Date: September 13, 2016
* Individual store prices may vary.
Description
A little girl falls asleep and in her dream becomes a huge gray wolf, like the one in her bedtime story. Out the window she leaps, and a marvelous nighttime adventure unfolds. She visits the rooster in his coop, and invites him to hop upon her back and together they run through the night. A reindeer joins in the fun, until the three are suddenly stopped in their tracks by a giant dazzling star. The reindeer climbs upon the wolf, and the rooster upon the reindeer to reach the star, then they carry it home, where it brings all kinds of light to the little girl's world.
This vibrantly illustrated wordless picture book is a celebration of the inspiration and freedom to be found in stories, dreams and the imagination.

About the Author
Geraldo Valerio was born in Brazil, where he received a Bachelor of Arts in Drawing, followed by a Master of Arts at New York University. His illustrations appear in books published in Canada, the United States, Brazil and Portugal. They include Do You Have a Dog? and When You Are Happy by Eileen Spinelli, Abecedario de Aves Brasileiras and My Book of Birds."