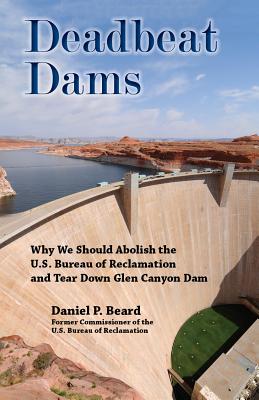 Deadbeat Dams
Why We Should Abolish the U.S. Bureau of Reclamation and Tear Down Glen Canyon Dam
Paperback

* Individual store prices may vary.
Description
Deadbeat Dams informs and educates people about how their tax dollars are being used and misused, why we are ignoring some immediate problems, and what can be done to correct this state of affairs. The faults of the present system of federally assisted water management efforts are amply detailed. And a series of specific changes are suggested to re-direct water policy decision-making and implementation. These reforms show how we can extract the federal government from worthless activities that cost millions of taxpayer dollars and provide little or no benefit--an agenda for reform that can be used as ammunition by a new generation of water reformers. "Deadbeat Dams is a courageous book and a much needed caveat published just when the dam builders are starting their latent cataclysmic assault on the rivers of the American West. As a former Commissioner of the Bureau of Reclamation appointed by President Clinton, Dan Beard's voice and leadership are needed more than ever to protect and restore rivers, and to end the dam builder schemes to engineer America's living rivers into concrete plumbing systems. Dams kill rivers--Deadbeat Dams restores rivers and our hope for a sustainable future." --Robert F. Kennedy, Jr., Waterkeeper Alliance "Dan Beard, who spent much of his long career in key positions in the legislative and executive branches of the federal government working on western water policy, has an axe to grind. He thinks our policy is deeply misguided, and he offers some specific ideas about how to fix it. You may not agree with everything he says, but you will almost certainly come away with a deeper understanding of why water policy needs more attention, just in time for us to confront the serious challenges that climate change is posing for how we manage water. Think of it as a compact supplement to and update of Marc Reisner's epic Cadillac Desert, one that focuses laser-like on the real politics of western water. Written in an accessible style, without jargon, it's fun to read, at least when your blood is not boiling." --John Leshy, Harry D. Sunderland Professor of Law, University of California Hastings College of the Law, San Francisco "Highly recommend Deadbeat Dams. As former Commissioner of the Bureau of Reclamation, Dan Beard is an authoritative voice who has penned a seminal book in America's river restoration movement that all environmentalists should read. After reading Deadbeat Dams, join me in grabbing a sledge hammer, going down to your neighborhood river, and turning this book's message into action." --Gary Wockner, Executive Director, Save The Poudre and Save The Colorado "A rare and captivating inside view of a giant federal water project agency by its former commissioner. Beard's convincing case should attract the support of many conservatives and liberals who want to get rid of government waste. Beard punctures the bubble of California water barons as he shows how they perpetually farm governments for subsidies. With growing concern about water supplies, Beard shows ways to scrap wasteful practices of the past and move to new approaches. This book has the potential to change the global approach to water: Beard shows the cost-effectiveness and environmental benefits of new approaches to water problems, especially the astonishing results achieved in the Western United States when these better approaches have been implemented." --Dr. Brent Blackwelder, President Emeritus, Friends of the Earth.
Bower House, 9781555664602, 156pp.
Publication Date: March 1, 2015
About the Author
DANIEL P. BEARD has been a forceful advocate for reform of water resource policy and management issues for more than four decades. He has extensive experience working in the private sector and government. His government service includes positions with the White House, U.S. Senate, House of Representatives, Interior Department, Library of Congress, and serving as Commissioner of the Bureau of Reclamation. He currently lives in Columbia, Maryland.
or
Not Currently Available for Direct Purchase