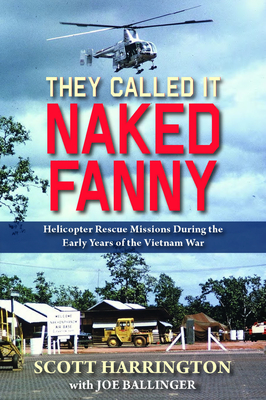 They Called It Naked Fanny (Paperback)
Helicopter Rescue Missions During the Early Years of the Vietnam War
Hellgate Press, 9781555718374, 300pp.
Publication Date: November 1, 2016
Other Editions of This Title:
Hardcover (9/6/2016)
* Individual store prices may vary.
Description
During the early years of the Vietnam War, several small cadres of men served their country and their fellow comrades-in-arms from a remote airbase cut out of the jungles of northeast Thailand. The base was named Nakhon Phanom Royal Thai Air Force Base, but the men assigned there had a special name for it: "Naked Fanny."
Initially they were assigned to rescue military pilots shot down over Laos or forced to leave their aircraft over Thailand. But as the war expanded, their mission changed and they were asked to fly into hostile situations in North Vietnam, making numerous rescues—detailed here by the pilots who flew them and those who were rescued.
   
This is a story that has never been told in its entirety but is an integral part of U.S. Air Force aviation history. Scott Harrington has compiled and written the story of those early years of the Vietnam War at the little base just west of the town of Nakhon Phanom, Thailand. After reading it, you'll understand why these fragile aircraft and the men who flew them were often referred to as "Blades of wood – Men of steel."
About the Author
Scott Harrington is a graduate of Southern Illinois University, Class of 1962. He received his commission as a 2nd Lieutenant in the United States Air Force in December 1962, and attended Weapons Controller School at Keesler Air Force Base, Mississippi. He spent nearly two years as a Weapons Controller in the SAGE System at Sioux City Air Base, Iowa, before being sent overseas to Clark Air Base in the Philippines. In 1965, after spending a brief tour at Tan Son Nhut Air Base in South Vietnam, he was assigned to Nakhon Phanom, Thailand (aka "Naked Fanny"), where he served four months as Senior Director/Weapons Controller of a radar operations crew in support of aircraft flying bombing missions over North Vietnam and helicopter rescue missions originating from Nakhon Phanom. He later assisted with the setup and initial operation of a radar site at Dong Ha, South Vietnam.
For his work in support of the Air Rescue Service at Nakhon Phanom, Harrington received the Air Force Commendation Medal. For his work at Dong Ha, he received an Oak Leaf Cluster to the Air Force Commendation Medal.
Upon his return to the United States he was assigned to Indian Springs Air Force Station, Nevada (now Creech Air Force Base), in support of the Atomic Energy Commission's underground nuclear test facility at Mercury, Nevada. Harrington then spent eleven years in broadcasting, winning several awards for broadcast excellence as a radio news anchor.  
He left the broadcast field in the late '70s, and spent the next 26 years with Gulf Power Company in Pensacola, Florida in public relations. Now retired, Harrington and his wife, Jaci, live on 10 acres in Northwest Florida.
Joe Ballinger was the commander of Detachment Provisional 2, PARC/ Detachment 1, 38th ARS at Nakhon Phanom Air Base, Thailand, for six months, from April to October 1965. It is his recollection of the events of those several months, along with his belief that those who shared the temporary duty experience at NKP should be honored and recognized on a broader scale, that prompted his desire to have this book written. Without Joe's encyclopedic memory and the "first-person" contributions from others who served there and those whose rescue originated from there, the full story of Nakhon Phanom during the early years could not have been written.