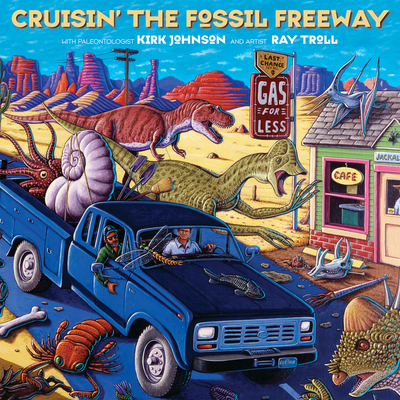 Crusin' the Fossil Freeway (Paperback)
An Epoch Tale of a Scientist and an Artist on the Ultimate 5,000-Mile Paleo Road Trip
Fulcrum Publishing, 9781555914516, 208pp.
Publication Date: October 1, 2007
* Individual store prices may vary.
Description
The travels of a paleontologist and an artist as they drive across the American West in search of fossils. Throughout their journey, they encounter "paleonerds" like themselves, people dedicated to finding everything from suburban T. rexes to ancient fossilized forests.
About the Author
Kirk R. Johnson is the Sant Director of the Smithsonian's National Museum of Natural History. He received his PhD in geology and paleobotany from Yale University in 1989, and did postdoctoral research in the rainforests of northern Australia before joining the Denver Museum of Natural History in 1991, where he directed the installation of the museum's Prehistoric Journey exhibit. His research focuses on fossil plants, the environmental effects of the dinosaur-smiting asteroid, and the birth and death of biomes. Johnson also works with artists to create accurate and plausible paintings, murals, and dioramas of prehistoric landscapes, several of which are on display in the Colorado Convention Center. Johnson lives in Washington, D. C.