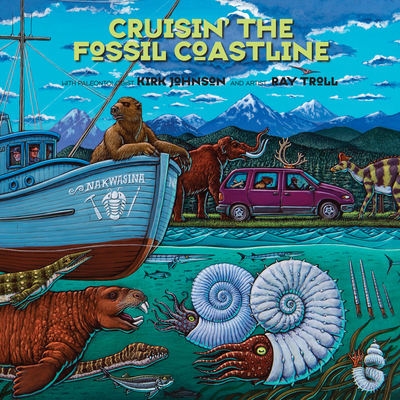 Cruisin' the Fossil Coastline
The Travels of an Artist and a Scientist along the Shores of the Prehistoric Pacific
Paperback

* Individual store prices may vary.
Description
In this long-awaited sequel Kirk Johnson and Ray Troll are back on a road trip—driving, flying, and boating their way from Baja, California to northern Alaska in search of the fossil secrets of North America's Pacific coast.

They hunt for fossils, visit museums, meet scientists and paleonerds, and sleuth out untold stories of extinct worlds. As one of the oldest coasts on earth, the west coast is a rich ground for fossil discovery. Its wonders include extinct marine mammals, pygmy mammoths, oyster bears, immense ammonites, shark-bitten camels, polar dinosaurs, Alaskan palms, California walruses, and a lava-baked rhinoceros. Join in for a fossil journey through deep time and discover how the west coast became the place it is today.
Praise For Cruisin' the Fossil Coastline: The Travels of an Artist and a Scientist along the Shores of the Prehistoric Pacific…
"Johnson and Troll have done it again, congratulations! This book is a knockout blend of science and humor, featuring superb artwork, people, and stories about the West Coast of the US and its fascinating prehistory. This book will make you laugh while exciting you with extraordinary science. It revives that sense of childhood wonder about dinosaurs and other bizarre creatures of bygone days." —John Long, Professor in Palaeontology at Flinders University in Australia, and author of many books, including Dawn of the Deed—The Prehistoric Origins of Sex

"Far from a dry scientific textbook, this is a charming celebration of fossils and those who study them." —Publishers Weekly

"Cruisin' the Fossil Coastline packs written and visual stories from cover to cover—all infused with a genuine passion for science and the joy of discovery." —Susan Ewing, author of Resurrecting the Shark

"This is a fun and informative book that moves briskly, bringing science and scientists alive." —David A. James, Anchorage Daily News

"In the long and storied history of fossil-hunting, the dynamic duo of Johnson and Troll is unique. No one else has made this grueling work look like so much fun. Once again, they've returned from an 'epoch' road trip laden with tales and images that are at once joyfully accessible and deeply informative. And the colors! They'll knock your eyes out."— John Vaillant, author of The Tiger and The Golden Spruce
Chicago Review Press - Fulcrum, 9781555917432, 290pp.
Publication Date: September 1, 2018
About the Author
Kirk R. Johnson is a paleobotanist and the Sant Director of the Smithsonian's National Museum of Natural History in Washington, D.C. He is the host of two recent PBS series, Making North America and The Great Yellowstone Thaw. He has written ten books including Prehistoric Journey, Cruisin' The Fossil Freeway, and Ancient Wyoming.

Ray Troll is an artist who has illustrated ten books, including Cruisin' the Fossil Freeway, Sharkabet, Rapture of the Deep, and Planet Ocean. He and his wife, Michelle, own and operate the Soho Coho Gallery in Ketchikan, Alaska.