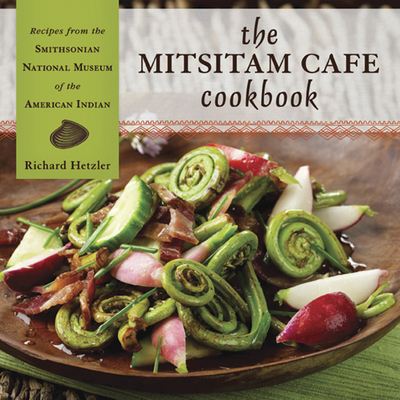 The Mitsitam Café Cookbook (Hardcover)
Recipes from the Smithsonian National Museum of the American Indian
Fulcrum Publishing, 9781555917470, 192pp.
Publication Date: November 1, 2010
* Individual store prices may vary.
Description
The Mitsitam Cafe Cookbook, published in association with the Smithsonian Institution's National Museum of the American Indian, showcases the Americas' indigenous foods in 90 easy-to-follow, home-tested recipes. Author and Mitsitam Cafe chef Richard Hetzler spent years researching Native American dishes and food practices for this stunning cookbook. Includes full-color images of the dishes and of objects from the museum's collection.
About the Author
The kitchen of Richard Hetzler's German American childhood home in Baltimore provided his earliest culinary inspiration. After working in restaurant kitchens in high school, Hetzler attended the Baltimore International Culinary College, graduating in 1995. He worked at several fine-dining restaurants in the Washington, DC/Baltimore area before joining the food-service firm Restaurant Associates, becoming the executive chef at the Smithsonian National Museum of Natural History. In 2003, he was on the team that researched and developed the groundbreaking concept for the National Museum of the American Indian's Mitsitam Cafe: serving indigenous foods that are the staples of five Native culture areas in North and South America. As the executive chef of the Mitsitam, which has become one of the country's most popular museum restaurants, he has continued to create and refine seasonal menus that showcase the truly native bounty of the Americas.
Praise For The Mitsitam Café Cookbook: Recipes from the Smithsonian National Museum of the American Indian…
March 3, 2011 - The Mitsitam Cafe Cookbook won "Best in the World" Cookbook for the "Best Local Cuisine" category of 2010 from Gourmand at the Paris Cookbook Fair. Finalists in the category included cookbooks from China, Malaysia, and Spain.

The Mitsitam Café Cookbook gathers Native American traditional recipes from the Smithsonian National Museum, offering recipes that draw on a range of culinary traditions from five Native cultures in the Americas. Ninety recipes are adapted here for home cooks and while some require access to unusual ingredients to be found locally in the wild- such as Fiddlehead Fern Salad or Smoked Trout and Dandelion Green Salad- most (such as Potato and Pinto Bean Enchiladas) can be easily duplicated simply with access to a good market. Any culinary library- and all Native American collections- will find this unusual and appealing." —Midwest Book Review