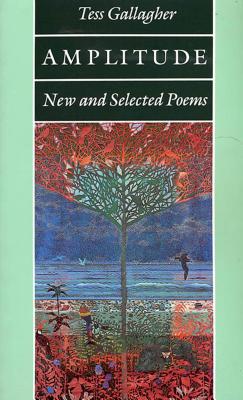 Amplitude
New and Selected Poems
Paperback

* Individual store prices may vary.
Praise For Amplitude: New and Selected Poems…
"A masterpiece of connection" —Ted Gioia, San Francisco Chronicle

"Gallagher's poems are rooted in a relentlessly willed attempt to come to terms with, to find words for, the fullness of life." —Young Adult Paperback Book Guide

"The great joy in reading Tess Gallagher's poetry in Amplitude comes from discovering that she can and will do anything with language." —Bin Ramke, The Bloomsbury Review

"It's that seesaw combination of earthiness and the ethereal, of the public and the intimate, of the difficult closeness of family (one of her best subjects) and wider concerns, all related in a firm and passionate yet subdued voice, that makes Tess Gallagher a great poet." —Frederick Koeppel, The Commercial Appeal

"In Amplitude Tess Gallagher conjures the Northwest's landscape of high green trees and shifting gray water, its climate of rain and subdued moonlight. Water-drenched and shady, the place encourages drifting or floating, rather than sudden turns, sharp edges. Gallagher's poems are full of departure and return, release and embrace--we know where home is, as we come to know her mother who felled trees and was once beautiful, her brother who repeats their father's life as a logger, their shared past as children who built cabins in the woods." —Emily Leider, San Francisco Chronicle

"Gallagher's new collection, Amplitude, signals a shift away from the stark lyric cry. She pays increasing attention to storytelling within the poem, turning toward a poetic hybrid known as the narrative-lyric. While her poetry is no less dense in its imagery, no less intricate a structue of language, Gallagher's storytelling mode offers a more generous invitation to the reader than the abstruse "raw" strain of contemporary verse." —Jenny wyatt, Seattle Weekly
Graywolf Press, 9781555971106, 204pp.
Publication Date: September 1, 1988
or
Not Currently Available for Direct Purchase