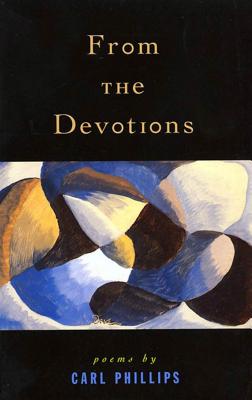 From the Devotions (Paperback)
Poems
Graywolf Press, 9781555972639, 82pp.
Publication Date: March 2, 2002
* Individual store prices may vary.
Description
With From the Devotions, Carl Phillips takes us even further into that dangerous space he has already made his own, where body and soul--ever restless--come explosively together. Speaking to a balance between decorum and pain, he offers here a devotional poetry that argues for faith, even without the comforting gods or the organized structures of revealed truth. Neither sage nor saint nor prophet, the poet is the listener, the mourner, the one who has some access to the maddening quarters of human consciousness, the wry Sibyl. From the Devotions is deeply felt, highly intelligent, and unsentimental, and cements Phillips's reputation as a poet of enormous talent and depth.
About the Author
Carl Phillips is the author of several books of poetry, including Silverchest, a finalist for the International Griffin Prize, and Double Shadow, winner of the Los Angeles Times Book Prize. He is also the author of The Art of Daring: Risk, Restlessness, Imagination. Phillips teaches at Washington University in St. Louis.
Praise For From the Devotions: Poems…
"In his extraordinary new book of poems, From the Devotions, by far his best, Carl Phillips has done what few of his contemporaries have dared or managed with as much elegant authority. He has plotted here the romantic landscape of desire. Myths are unsheathed and glisten. History is held and pondered. Violence shimmers, desires are silhouetted against the light of love and death. His tone is at once erotic and mystical, hushed and compelling. This book is a blessing, a ravishing, a haunting. I urge you to read it--to succumb to it." —J.D. McClatchy
or
Not Currently Available for Direct Purchase