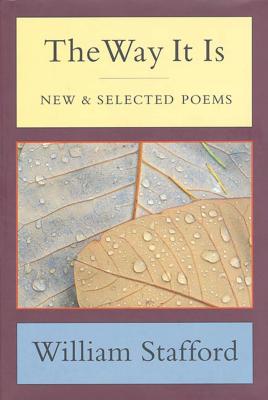 The Way It Is (Hardcover)
New and Selected Poems
Graywolf Press, 9781555972691, 296pp.
Publication Date: February 1, 1998
Other Editions of This Title:
Paperback (3/1/1999)
* Individual store prices may vary.
Description
So, the world happens twice--
once what we see it as;
second it legends itself
deep, the way it is.
William Stafford filled his life and ours with poetry of challenge and consolation. The Way It Is gathers unpublished poems from his last year, including the poem he wrote the day he died, as well as an essential selection of works from throughout his career. An editorial team including his son Kim Stafford, Naomi Shihab Nye, and Robert Bly collaborated on shaping this book of Stafford's life in poetry.
The poems in The Way It Is encompass Stafford's rugged domesticity, the political edge of his irony, and his brave starings off into emptiness. What emerges here is Stafford's faith in language and the soul, those things that form the base for his artistic gyroscope. This collection reveals the depth and breadth of a poet for whom the art was to make a life richly lived.
About the Author
Born in Hutchinson, Kansas, in 1914, William Stafford was one of our most prolific and celebrated poets. He was a witness for peace, and for honesty, recognizing in his writing that "justice will take us millions of intricate moves." Author of over fifty books, and recipient of the National Book Award for Traveling through the Dark, Stafford was a professor at Lewis & Clark College, and a traveling teacher throughout the world. As a conscientious objector during World War II, he began his unswerving habit of writing before dawn each day, and his habitual generosity to other writers and readers. After serving as consultant in Poetry to the Library of Congress in 1970, he was named Oregon's Poet Laureate in 1975. He died at his home in Oregon in 1993.
Praise For The Way It Is: New and Selected Poems…
"William Stafford's quiet presence in the landscape of American poetry in my lifetime has been a kind of continuing reassurance whose value always seemed to me beyond question. Even those of us who have read him for years are almost certain to be surprised now, I think, and repeatedly surprised, at the range and freshness of his gift, its responsiveness to the small, the plain, the apparently usual. I think his work as a whole will go on surprising us, growing as we recognize it, bearing witness in plain language to the holiness of the heart's affections which he seemed never to doubt. A treasure that he has left us." —W.S. Merwin