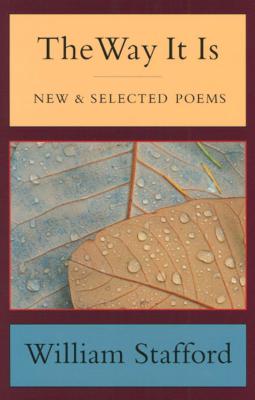 The Way It Is (Paperback)
New and Selected Poems
Graywolf Press, 9781555972844, 268pp.
Publication Date: March 1, 1999
Other Editions of This Title:
Hardcover (2/1/1998)
* Individual store prices may vary.
Description
William Stafford (1914-1993) was an earnest, perceptive, and often affecting American poet who filled his life and ours with poetry of challenge and consolation. The Way It Is: New and Selected Poems gathers unpublished works from his last year, including the poem he wrote the day he died, as well as an essential and wide-ranging selection of works from throughout his career. An editorial team including his son Kim Stafford, the poet Naomi Shihab Nye, and the poet, translator, and author Robert Bly collaborated on shaping this book of Stafford's pioneering career in modern poetry. The poems in The Way It Is encompass Stafford's rugged domesticity, the political edge of his irony, and his brave starings-off into emptiness.
About the Author
William Stafford was born in Hutchinson, Kansas, in 1914. After the Second World War (to which he was a conscientious objector), he earned a Ph.D. at the newly created Iowa Writer's Workshop. A longtime lecturer, workshop leader, and advocate on behalf of younger writers and readers, Stafford taught English at Lewis and Clark College from 1956 to 1979. He was awarded the National Book Award in Poetry for Traveling through the Dark. The author of over fifty books, Stafford remains one of the most beloved and widely read poets in contemporary American letters. He died in Oregon, where he had formerly served as the state's poet laureate, in 1993.
Praise For The Way It Is: New and Selected Poems…
"Stafford's quiet presence in the landscape of American poetry in my lifetime has been a kind of continuing reassurance whose values always seemed to me beyond question. Even those of us who have read him for years are almost certain to be surprised now, I think, and repeatedly surprised, at the range and freshness of his gift, its responsiveness to the small, the plain, the apparently usual. I think his work as a whole will go on surprising us, growing as we recognize it, bearing witness in plain language to the holiness of the heart's affections which he seemed never to doubt. [This book is] a treasure that he has left us." —W.S. Merwin

"[Stafford] left behind a body of work that represents some of the finest poetry written during the second half of [the twentieth] century . . . The poems, which reveal many of Stafford's themes--his affinity for Native Americans, love of nature, protest of war, and concern about the dangers of technology--are subtle and powerful in tone, but imagery is paramount . . . Highly recommended." —Library Journal

"This is a collection to savor and admire. The many contributors to this extraordinary endeavor have completed a task worthy of this much-loved poet." —Harvard Review