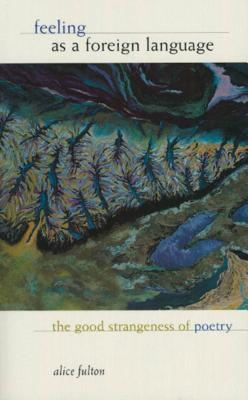 Feeling as a Foreign Language
The Good Strangeness of Poetry
Paperback

* Individual store prices may vary.
Description
In Feeling as a Foreign Language, award-winning poet and critic Alice Fulton considers poetry's uncanny ability to access and recreate emotions so wayward they go unnamed. How does poetry create feeling? What are fractal poetics?
In a series of provocative, beautifully written essays concerning "the good strangeness of poetry," Fulton contemplates the intricacies of a rare genetic syndrome, the aesthetics of complexity theory, and the need for "cultural incorrectness." She also meditates on electronic, biological, and linguistic screens; falls in love with an outrageous 17th-century poet; argues for a Dickinsonian tradition in American letters; and calls for a courageous poetics of "inconvenient knowledge."
Contents
Preamble
I. Process
Head Notes, Heart Notes, Base Notes
Screens: An Alchemical Scrapbook
II. Poetics
Subversive Pleasures
Of Formal, Free, and Fractal Verse: Singing the Body Eclectic
Fractal Amplifications: Writing in Three Dimensions
III. Powers
The Only Kangaroo among the Beauty
Unordinary Passions: Margaret Cavendish, the Duchess of Newcastle
Her Moment of Brocade: The Reconstruction of Emily Dickinson
IV. Praxis
Seed Ink
To Organize a Waterfall
V. Penchants
A Canon for Infidels
Three Poets in Pursuit of America
The State of the Art
Main Things
ri0
VI. Premises
The Tongue as a Muscle
A Poetry of Inconvenient Knowledge
Praise For Feeling as a Foreign Language: The Good Strangeness of Poetry…
"Fractal, electric, Fulton lands the crackle of the thinking sensibility onto the page. Reading these essays, we see poetry in a new way, its flings and intuitions subject to a most exacting sort of calibration. Here is a book not just for poets, but for all thinking readers." —Sven Birkerts
"These deeply satisfying essays turn issues of form and content inside out, refusing old dichotomies and familiar answers. Alice Fulton points toward just how rich and strange postmodern poetry really is, or might be: something perennially surprising, uncharted, an art as slippery, fresh, and difficult as American experience now. This engaging book will delight and challenge readers of poetry, but it also offers serious pleasure to anyone who loves language." —Mark Doty
Graywolf Press, 9781555972868, 320pp.
Publication Date: March 1, 1999
About the Author
Alice Fulton is the author of the poetry collections Sensual Math, Powers of Congress, Palladium, and Dance Script With Electric Ballerina. She has received several major honors, including MacArthur and Guggenheim Fellowships, and is currently Professor of English at the University of Michigan, Ann Arbor.