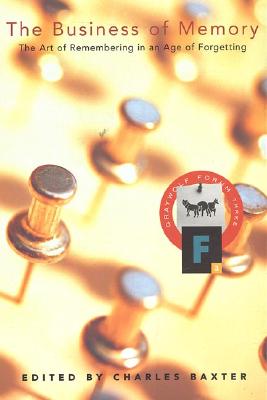 The Business of Memory: The Art of Remembering in an Age of Forgetting (Paperback)
The Art of Remembering in an Age of Forgetting
Graywolf Press, 9781555972875, 180pp.
Publication Date: April 1, 1999
* Individual store prices may vary.
or
Not Currently Available for Direct Purchase
Description
In the current information age, "memory" is as likely to be an attribute of a computer as a human being. In Graywolf Forum Three: The Business of Memory, editor Charles Baxter invites twelve creative writers to contemplate the externalization of what was once so deeply personal. The resulting essays address a provocative range of topics: the explosion of interest in the memoir; the recovered-memory movement; America in the grip of an "amnesia plague;" the need for coherent stories of our past to help us organize our present; and forgetfulness--political, cultural, and literary--and the shame and allure it holds. Throughout, these fascinating pieces illuminate the art of remembering in a time when memory has become a highly measurable commodity.

Contributors:

Charles Baxter
Richard Bausch
Karen Brennan
Bernard Cooper
Lydia Davis
Steve Erickson
Alvin Greenberg
Patricia Hampl
Margot Livesey
James A. McPherson
Victoria Morrow
Michael Ryan
Sylvia Watanabe
About the Author
Charles Baxter is the author of several books, including "Burning Down the House" and "Believers." He has been honored with an Academy Award in Literature from the American Academy of Arts and Letters. Baxter lives in Ann Arbor and teaches at the University of Michigan.
Advertisement