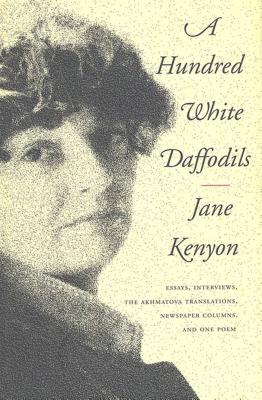 A Hundred White Daffodils: Essays, Interviews, the Akhmatova Translations, Newspaper Columns, and One Poem (Hardcover)
Essays, Interviews, the Akhmatova Translations, Newspaper Columns, and One Poem
Graywolf Press, 9781555972912, 248pp.
Publication Date: August 1, 1999
* Individual store prices may vary.
or
Not Currently Available for Direct Purchase
Description
"There is something in me that will not be snuffed out," Jane Kenyon told Bill Moyers in an interview. And there is no better proof of that than the overwhelming response her poetry generates. Kenyon's last collection, "Otherwise: New & Selected Poems," remains a phenomenon: a best-seller that testifies to the impact Kenyon has had on the poetic landscape.
"A Hundred White Daffodils" is a companion volume that sheds illumination on a poet, and a woman, of great presence. It offers glimpses into a life cut too short and traces the influences that created Kenyon's poetic voice. The book includes Kenyon's translations of the great Russian poet Anna Akhmatova, and insights into how Kenyon chose her as a muse. It presents a variety of Kenyon's prose pieces about the writing life, her spiritual life, her country community, her gardens-- themes that readers will well remember from her poems. Transcripts of interviews provide further understanding as Kenyon faces her struggle with depression and the losses wrought by illness. Finally, there is an unfinished, visionary poem that makes one wonder what might have been if Kenyon had been given the chance to create more poetry.
Including an introduction by Kenyon's husband and fellow poet, Donald Hall, and a bibliography of her publications, "A Hundred White Daffodils" is a gift to all those devoted to Kenyon's poetry.
About the Author
Jane Kenyon was born in Ann Arbor and graduated from the University of Michigan. She is the author of five collections of poetry: From Room to Room (Alice James Books), The Boat of Quiet Hours (Graywolf Press), Let Evening Come (Graywolf Press), Constance (Graywolf Press), and Otherwise: New & Selected Poems (Graywolf Press); and translator of Twenty Poems of Anna Akhmatova (Ally/The Eighties Press). Her poems have appeared in many magazines, including the New Yorker, Paris Review, the New Republic, the Atlantic Monthly, and Poetry. She lived and worked with her husband Donald Hall in Wilmot, New Hampshire, until her death in 1995.
Advertisement