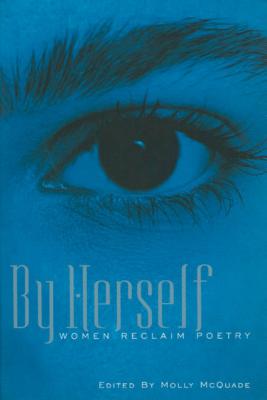 By Herself (Paperback)
Women Reclaim Poetry
Graywolf Press, 9781555972974, 424pp.
Publication Date: February 1, 2000
* Individual store prices may vary.
Description
Have women finally moved beyond the status of cultural outsiders to become full participants in American poetry and its criticism? In By Herself: Women Reclaim Poetry - edited by Molly McQuade - contemporary women poets reconsider their art form on their own terms, and the results are both telling and fascinating. This lively and richly varied collection offers more than two dozen essays that are uniformly original, challenging, playful, and ruthlessly individualistic.
About the Author
Molly McQuade is the author of Stealing Glimpses: Of Poetry, Poets, and Things in Between and Barbarism, a collection of poems. Currently, she is a contributing editor for Graywolf Press, a correspondent for Booklist, and a board member of the National Book Critics Circle. She lives in New York.
Praise For By Herself: Women Reclaim Poetry…
"While McQuade likes the 'lavish, unpredictable' qualities a poet can bring to criticism, she grants no superiority to women poets and critics per se. She does argue that, as longstanding outsiders to critical writing, women can often bring a freshness to its practice. This collection of essays by accomplished poets more than justifies her claim . . . No poet will read this book without learning something new about the nuances of the craft, and no critic will read it without realizing the need for such liveliness." —Library Journal