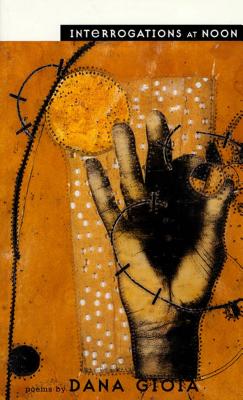 Interrogations at Noon (Paperback)
Graywolf Press, 9781555973186, 72pp.
Publication Date: March 1, 2001
Description
Winner of the American Book Award
Dana Gioia, an internationally known poet and critic, is notably prolific with his essays, reviews, translations, and anthologies. But like his celebrated teacher, Elizabeth Bishop, Gioia is meticulously painstaking and self-critical about his own poems. In an active 25-year career he has published only two previous volumes of poetry. Although Gioia is often recognized as a leading force in the recent revival of rhyme and meter in American poetry, his own work does not fit neatly into any one style.
"Interrogations at Noon" displays an extraordinary range of style and sensibility from rhymed couplets to free verse, from surrealist elegy to satirical ballad. What unites the poems is not a single approach but their resonant musicality and powerful but understated emotion. This new collection explores the uninvited epiphanies of love and marriage, probing the quiet mysteries of a seemingly settled domestic life. Meditating on the inescapable themes of lyric poetry time, mortality, nature, and the contradictions of the human heart Gioia turns them to provocative and unexpected ends.
About the Author
An acclaimed poet, essayist, anthologist, BBC commentator, and critic, Dana Gioia is the author of three books of poems, the pioneering essay collection Can Poetry Matter?, and Nosferatu, a libretto. He was recently nominated to be Chairman of the National Endowment for the Arts and lives in Santa Rosa, California, with his family.
Praise For Interrogations at Noon…
"[Gioia's] third book of poetry is achingly good . . . Don't take my word for it: Read the book."—The Philadelphia Inquirer

"[Gioia's] rhymes are true, his meters are correct and musical, his diction is fresh—he is well on the way to becoming a classic poet himself."—Ray Olson, Booklist

"Gioia gained prominence during the 1980s as a crusader on behalf of the New Formalists—poets who wrote about everyday lives and losses in determinedly accessible, traditional modes and metres . . . His real gift is for light verse; "Elegy with Surrealist Proverbs as Refrain" has a seriocomic interest beyond its absurdly reduced subjects (Andre Breton, Apollinaire, and others), and the songs from Gioia's libretto Nosferatu stand out for their verve."—Publishers Weekly
Advertisement