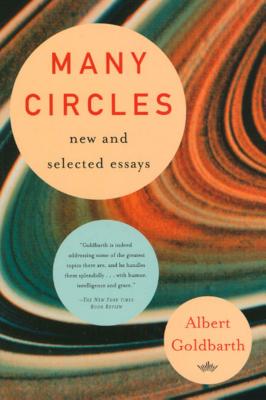 Many Circles: New & Selected Essays (Paperback)
New & Selected Essays
Graywolf Press, 9781555973216, 310pp.
Publication Date: March 1, 2001
* Individual store prices may vary.
or
Not Currently Available for Direct Purchase
Description
"Many Circles" collects the best of Goldbarth's three earlier essay collections, along with several new pieces. Goldbarth, whom Joyce Carol Oates has called "a dazzling virtuoso who can break your heart," weaves through an array of fascinating topics (including alien life, Jewish history, pop culture, ancient and recent events, and quantum physics) to explore the greater questions of our existence and our universe. Each essay, in language and topic, is a rich and extraordinary adventure, full of surprise and epiphany. As Robert Atwan, editor of "The Best American Essays" series, has noted: "Theses essays are a whole new breed . . . Goldbarth has spliced strands of the old genre with a powerful new gene and the results are miraculous.
About the Author
Albert Goldbarth is the author of several books of poetry, and of three essay collections: Dark Waves and Light Matter, Great Topics of the World, and A Sympathy of Souls. He has won the National Book Critics Circle Award for his poetry, among many other honors. He lives and teaches in Kansas.
Praise For Many Circles: New & Selected Essays…
"Goldbarth is indeed addressing some of the greatest topics there are, and he handles them splendidly [and] with humor, intelligence, and grace."—The New York Times Book Review

"Goldbarth marries emotions, thoughts, and events we never thought to see in proximity to one another; through his genius we rediscover the world's history and our own. No one else now is writing what Albert Goldbarth gives us because no one else can."—Frederick Busch

"Poet and essayist Goldbarth is known for his eclectic, circuitous style. In one essay, you may find his father painting a paint-by-number scene, exotic dancers spinning on a wheel, Jesus acting as the son of man, cave art found in Argentina, walking to Hebrew school, and recollections of a Jorge Luis Borges story. This anthology collects 12 essays from the past 21 years of his work, augmented by some new material. Always concerned with the human condition, the author interweaves personal experiences with intellectual ideas and current events with esoteric references to the past—making love, the necessity of history, a gang member forced into a boiling bath, or Leonardo da Vinci waiting at the hospital for a centenarian to die, all find their way into Goldbarth's ranging perspective. A rich and intriguing mix."—Library Journal

"For those who think clearly written prose is for sissies, Goldbarth is back—with a representative essay collection that both dazzles and stupefies with its complications. Winner of the National Book Critics Circle Award for his poetry, Goldbarth is also an acknowledged innovator of the literary essay, with three collections to his credit. Some of his best-known works appear in this collection, including 'After Yitzl' and 'Parade March from That Creaturely World' (both of which introduce his preoccupations with the movement of time and memory). All the essays display his trademark mélange of dense poetic phrasing, multiple story lines, historical events, and pop culture—which, for sheer bulk alone, is amazing . . . With essays spanning more than 20 years, this collection provides a surefire introduction to Goldbarth's prose."—Kirkus Reviews

"Goldbarth's virtuosic essays bob and weave throughout this delightful, even brilliant, collection. Well worth reading and rereading, some of these pieces from the past 21 years were published in journals such as the Georgia Review and Parnassus and in previous books. [Goldbarth] synthesizes isolated facts and sweeping concepts, locating himself within the general 'we' even as he writes in first person and discusses exceptional individuals . . . No subject falls outside Goldbarth's interest, from the planet Mars to Marie Curie to his own grandfather. While many of these essays aren't autobiographical, they are nonetheless deeply felt. Goldbarth's fresh prose and expansive content are helping reconfigure the essay as a form."—Publishers Weekly
Advertisement