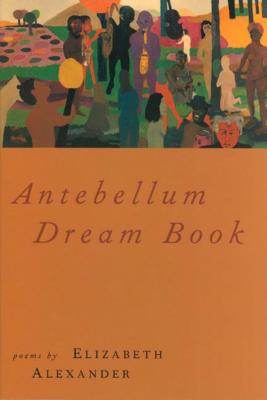 Antebellum Dream Book
Poems
Paperback

* Individual store prices may vary.
Description
In surprising turns through different American cities, mindsets, and eras, and through the strange rhythms of dreaming, the celebrated poet Elizabeth Alexander composes her own kind of improvisational jazz. Antebellum Dream Book offers a music of resistances as well as soaring flights of fancy: the conflicts of the Civil Rights movement of the 1960s and after; a mother's struggle to see through a postpartum fog; a vision in which the poet takes on the narrative voice of Muhammad Ali. The New York Times Book Review has said that "Alexander creates intellectual magic in poem after poem." In this stunning collection, she furthers her reputation as a vital and vivid poetic voice keenly attuned to our ideas of race, gender, politics, and motherhood.
Praise For Antebellum Dream Book: Poems…
"Aggressively vivid [and] impressive . . . [Alexander's] asymmetrical, confident short poems and sequences encompass, among other things, paintings and sculptures, riots and civil rights marches, childbirth and motherhood, rock concerts and dinner parties, dreams and chocolate bars, and African-American history." —Publishers Weekly

"Alexander's third book, after Venus Hottentot and Body of Life, features poems about several famous African American icons, including Nat 'King' Cole, Toni Morrison, Richard Pryor, and Muhammad Ali. Her sense of fun comes to the fore in poems such as 'Opiate,' in which the speaker goes out on a date with Michael Jordan. 'Georgia Postcard' explores the new South, which still harbors evils from the past, and 'Overture: Watermelon City' describes friendly neighborhoods where people sit outside at night, though it also notes 'the smell of smoke and flesh, / the city on fire for real' . . . When Alexander's forge is hot, as in 'Neonatoloy,' the reader is transported to her world." —Library Journal

"Each of Alexander's poetry collections is better than the last, and her third is a beauty, musical but restrained as each word, each note, releases its full range of sound and meaning . . . Pop culture and racial conflicts pervade [Alexander's] dream state, but when she contemplates her baby, she enters a realm of sublime self-possession and strength, in which the particulars of race, time, and place spiral into songs of wonder and universal love." —Booklist

"[Alexander's] poems bristle with the irresistible quality of a world seen fresh." —Rita Dove, The Washington Post

"Alexander explores tensions inherent in gender and race and expresses the ambivalence of motherhood in jazz-inflected tones." —Elle

"Alexander has an instinct for turning her profound cultural vision into one that illuminates universal experience." —Clarence Major

"Alexander's lyric intensity and erotic intelligence coexist with and complement an alert historical consciousness." —Chicago Tribune

"Once again Elizabeth Alexander uses exquisite care and delicacy to explore turbulent times and feelings. Bravo!" —Ntozake Shange
Graywolf Press, 9781555973544, 96pp.
Publication Date: September 1, 2001
About the Author
Elizabeth Alexander was born in New York City and grew up in Washington, DC. She has read her poetry and lectured on African American literature and culture across the country and abroad. She teaches poetry in the Cave Canem Poetry Workshop and at Yale University.