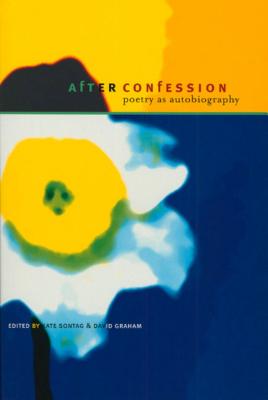 After Confession (Paperback)
Poetry as Autobiography
Graywolf Press, 9781555973551, 360pp.
Publication Date: September 1, 2001
* Individual store prices may vary.
Description
In an age of memoir, the distinction between fiction and nonfiction has become increasingly blurred, sparking controversy among writers and readers alike. But what about the autobiographical impulse in poetry? In this groundbreaking collection, some of our best contemporary poets contemplate the legacy of the confessional poets such as Plath, Sexton, and Lowell. They also tackle such fiery topics as the nature of authorial responsibility in telling the truth, the focus on issues of self in relation to others and to the natural world, the very essence of craft as transformation, and the role female poets have played in breaking the code of silence.
Rich in opinion and theory, After Confession offers the first thorough discussion on the lyric "I"--the boundaries between literal and emotional truth, memory and imagination, person and persona, narcissism and revelation.
Contributors: Joan Aleshire Frank Bidart Kimberly Blaeser Joseph Bruchac Marilyn Chin Billy Collins Stephen Dunn Annie Finch Carol Frost Brendan Galvin Pamela Gemin Louise Glück David Graham Kimiko Hahn Judith Harris Andrew Hudgins Colette Inez Yusef Komunyakaa Ted Kooser Sydney Lea William Matthews Thylias Moss Carol Muske-Dukes Sharon Olds Alicia Ostriker Stanley Plumly Claudia Rankine Adrienne Rich Kate Sontag Alan Williamson
About the Author
Kate Sontag teaches in the English Department at the University of Wisconsin, Oshkosh. Her poetry has appeared in many journals and anthologies. She lives in Ripon, Wisconsin.
David Graham
's photographs have appeared in
Life
,
The New York Times
Magazine
and other publications. He lives in Pennsylvania.
Praise For After Confession: Poetry as Autobiography…
"The autobiographical impulse in English and American poetry is here explored in two poems and 28 essays by a range of contemporary poets. Each weighs in on a different area of the discussion, but all are evocative and engaging. One quickly discovers that the confessional poem's legacy extends further than the expected Plath, Sexton, and Lowell. Sappho, Shakespeare's elusive figures, Milton's daughters, and Mary Wordsworth are as likely to be evoked by these writers, as they demonstrate how the poetic voice spans an infinite variety of combinations. Colette Inez quotes Flaubert, while Claudia Rankine references Simone Weil: 'I am also other than what I imagine myself to be.' In concluding his essay, William Matthews writes, 'Jack Nicklaus didn't hit that shot out of a fairway bunker with a sidehill lie with his personality, he hit it with a 4-wood.' Other poets who join the discussion include Joseph Bruchac, Kimiko Hahn, Adrienne Rich, and Yusef Komunyakaa. The editors have done an outstanding job. Highly recommended to any library interested in poetics." —Library Journal
or
Not Currently Available for Direct Purchase