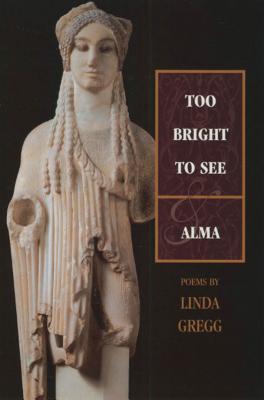 Too Bright to See & Alma (Paperback)
Poems
Graywolf Press, 9781555973575, 144pp.
Publication Date: November 1, 2001
* Individual store prices may vary.
Description
Linda Gregg's first two books - Too Bright to See & Alma - are, at long last, available again-this time in a single volume. In this book, we witness the awakening of one of the finest American poets of her generation.
About the Author
Linda Gregg has received numerous awards for her poetry, including a Guggenheim Fellowship and a Whiting Award. Her work has appeared in The New Yorker, The Paris Review, The Kenyon Review, and Atlantic Monthly.
Praise For Too Bright to See & Alma: Poems…
"Too Bright to See is one of the most important first books of poetry to have come out in the last 25 years. Alma, first published in its own volume two years later, has become its necessary companion . . . It's a fine thing to have these two books back in the world, the visible world, bound together, lucid and legible as they are." —Lucie Brock-Broido
"I consider Linda Gregg one of the best American poets, and I value the neatness of design in her poems, as well as the energy of each line." —Czeslaw Milosz
"I have loved Linda Gregg's poems since I first read them. They are original in the way that really matters: they speak clearly of their source. They are inseparable from the surprising, unrolling, eventful, pure current of their language, and they convey at once the pain of individual loss, a steady and utterly personal radiance." —W. S. Merwin
"The blinding intensity of Ms. Gregg's lines stains the reader's psyche the way lightning or heartbreak do." —Joseph Brodsky