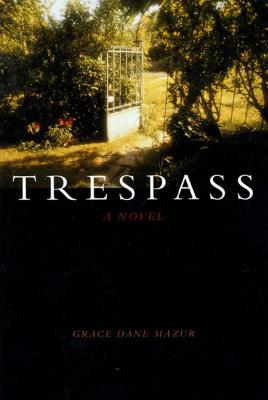 Trespass
A Novel
Paperback

* Individual store prices may vary.
Description
"She was not afraid of this man, but it flustered her that his small conversational rudeness--the abruptness of his refusal to explain about bathtubs--seemed to have given him the upper hand. No matter, he was starkers and an intruder and folded into her own laundry tub, and even though she was naked and fifty years old and alone in the house, she was strong and she knew how to kick, and besides, there was a long-handled shovel leaning on the wall right behind her."
Maggie Gifford is shocked to see a strange man bathing in her laundry tub, but even more shocked by her response: an offer to scrub his back. Unleashing an erotic madness reminiscent of A Midsummer Night's Dream, this peculiar stranger runs amok during the Gifford family annual summer reunion, disrupting the otherwise peaceful farmland of the southeastern Massachusetts shore.
But the Gifford family is not without its own peculiarities. Maggie is secretly loved and desired by her own cousin Jake, a remittance man and mail-order minister. Jake lives on the border of Maggie's life, on the farm adjacent to Maggie's house. His beautiful gardens are a daily tribute to Maggie, and each year he constructs a hidden room in the forest made of flowers, plants, and trees, for her birthday. But someone has poisoned Jake's gardens and his relationship with Maggie--destroying the delicate arrangement he spent years trying to create. Is it Maggie's daughter who lures men with her angst-ridden poetry; Jake's often estranged girlfriend, an installation artist who runs a Volvo dealership; or the disarming shadow of the man who is trespassing in their woods and hearts?
In this luminous first novel, Mazur shows with humor and grace that despite the well-tended garden of life, desire and nature have the power to break loose, which can lead to an explosion of random beauty.
Praise For Trespass: A Novel…
"Trespass burrows magically under the skin and takes up permanent residence there until the last page is read." —Richard Russo
"A work rich in both the perverse beauty of estrangement and the rare delicacy of actual connection. This is wild and remarkable book." —Robert Boswell
"Trespass is about all kinds of trespass, crossing boundaries and resting on someone else's property, land, and sexual bodies and souls. A wonderful book." —Charles Baxter
Graywolf Press, 9781555973643, 222pp.
Publication Date: June 1, 2002
About the Author
Grace Dane Mazur is the author of a collection of stories, Silk, which was a New York Times notable book of the year. Before becoming a writer, she was a postdoctoral research biologist at Harvard University, studying the microarchitecture of silkworms. She teaches creative writing at Harvard and lives in Cambridge and in Westport, Massachusetts, with her husband, the mathematician Barry Mazur.
or
Not Currently Available for Direct Purchase