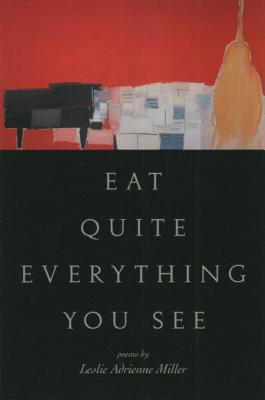 Eat Quite Everything You See (Paperback)
Poems
Graywolf Press, 9781555973650, 112pp.
Publication Date: June 1, 2002
* Individual store prices may vary.
Description
Reading Miller's poetry has been likened to obtaining tickets to exotic places both real and imagined. In Eat Quite Everything You See - the fourth collection of her verse - she offers a wry and compelling series of wanderings through the ever-changing landscapes of Europe. With an inquisitive spirit and a generous sense of humor, Miller investigates the experience of otherness in a foreign land, exploring also the phenomena of human culture, womanhood, independence, desire, and love.
About the Author
Leslie Adrienne Miller has written three previous books of poetry. She has also won numerous awards, including an NEA Fellowship and a Loft McKnight Award. She is currently an associate professor of English at the University of St. Thomas in St. Paul, Minnesota.
Praise For Eat Quite Everything You See: Poems…
"A book of hungers sated and unsated, a compendium of erotic surprise. The voracious yet airy command of the book's title, its synesthesia of appetite and vision, aptly suggests the sensual world of Miller's sophisticated narratives. At once urgent and urbane, intimate and grand, gravid and luscious, her poems offer delight and sustenance as they illuminate the largest questions. Eat Quite Everything You See is, quite simply, a feast." —Alice Fulton
"Taking a bite out of life is daunting and thrilling, as Miller's sage new poems show. Eat Quite Everything You See follows Miller's steps--in all their imaginative, thoughtful, stumbling elegance--toward an unexpected goal: not marriage, not children, but an intelligently measured inner journey." —Molly Peacock
"The fierce, passionate observation and the rich pageantry of Miller's poems have astonished me for twenty years now. Deeply original and constantly compelling, she is a poet as capable of deft portraiture as she is of wise philosophical and cultural reckonings. Don't miss this remarkable book." —David St. John
or
Not Currently Available for Direct Purchase