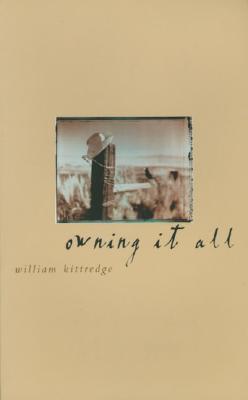 Owning It All (Paperback)
Essays
Graywolf Press, 9781555973667, 184pp.
Publication Date: July 1, 2002
* Individual store prices may vary.
Description
This is a deeply felt and highly informed essay collection about life in the American west by one of the finest writers ever to emerge from that region. As the "Seattle Times" has said of "Owning It All" "You may never again see the American west in quite the same way if you take the time to view it through the eyes of William Kittredge. This is a] stunning book." Having grown up on his family's cattle ranch in eastern Oregon, Kittredge directly confronts the contradictions and myths that lie at the heart of the Western experience: male freedom and female domesticity, the wild and the tame, self-interest and love of the land.
About the Author
William Kittredge grew up on a cattle ranch in Southeast Oregon and farmed there until he was 33, after which he taught Creative Writing at the University of Montana. He is the author of several widely celebrated books on the Western experience, including Hole in the Sky (a memoir) and We Are Not in This Together (a book of short fiction).
Praise For Owning It All: Essays…
"These autobiographical essays about growing up in the West affirm Kittredge's place as one of our most astute Western writers."—The Bloomsbury Review

"Here is an important book. Not the least because of Kittredge's own wonderful prose style, which places this book in the company of such classics as Norman McLean's A River Runs Through It, Ivan Doig's House Made of Sky, John Graves' Goodbye to a River, D. L. Davis's rural essays, and Wallace Stegner's Wolf Willow. You ought not miss this fine book."—Albuquerque Journal Magazine

"Owning It All establishes [Kittredge] as one of this generation's most provocative and thoughtful observers of the American West as it is today, and how it came to be that way."—The Kansas City Star

"Brings together fourteen occasional pieces in which Kittredge attempts, in prose as hard and smooth as the pebbles in a mountain stream, to understand what it means to be a westerner."—New York Newsday

"Reading this richly detailed book is like listening to Hank Williams. Its twangy, melancholic strains cut to the bone."—Booklist

"[Kittredge] explores the meaning of the Western myth and its effects on the land, people, and wildlife of America. In some of the most perceptive writing, Kittredge critiques the movie Western and shows how recent pictures have drawn on that genre for their plots. In another essay, he mourns the virtual destruction of the grizzly bear south of the Canadian border. Taken together, these pieces present a land slowly dying from the effects of plow and oil field. A dark vision to be sure, but one to be pondered."—Library Journal

"An illustrative and insightful collection of essays on the American West . . . Autobiographical sketches describe his early years in [an] isolated community and are full of rodeo memories and ruminations on his buckaroo days. Other essays consider the boom-town phenomenon, the 'redneck,' the grizzly bear, the renaissance in Native American art. Most notably, the author offers a critique of the popular view of the West—which is, according to Kittredge, a disguised mythology of conquest and possession that historically has served as a rationale for violence but which seems to be losing its power. He also notes the deleterious affect of this mythology on agriculture, where the concept of conquest has resulted in a 'dream gone wrong' and the destruction of the landscape in favor of the 'factory-land.' Kittredge stands valiantly at the center of a fledgling regional literature emerging from shattered myths and discarded ideals."—Publishers Weekly
or
Not Currently Available for Direct Purchase