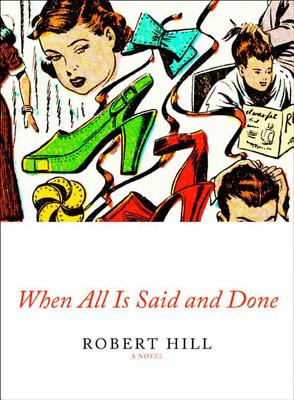 When All Is Said and Done
A Novel
Hardcover

* Individual store prices may vary.
Other Editions of This Title:
Paperback (1/22/2008)
Description
A distinctive portrait of a 1960s marriage by debut novelist Robert Hill
Eight years and four jobs and five pregnancies and meetings and train schedules and formula and diapers and deadlines and clients and mortgage and croup and a revolving door of baby nurses and Dan stagnating in that civilian job I convinced him to take when the Air Force wanted him back for Korea of all things, they got Elvis, they didn't need Dan, a man of his age, for crying out loud, and after what they did to him in that hospital upstate . . .
It is the early 1960s, and Myrmy stubs her toe in the predawn hours on her way to soothe her infant son, cursing the latest nurse for not waking up, again. Dressed to the nines, it is Myrmy who is off to an executive position writing advertising copy for shampoo. Her husband, Dan, who fought in two wars, sells ties and cooks dinner. A Jewish couple living in an exclusive suburb of New York, Myrmy powers through her life in high heels and Dan silently suffers the mysterious aftereffects of a radiation experiment conducted by the military. Together they raise a family.
Robert Hill offers a distinctive and breathless portrayal of an ordinary, and extraordinary, marriage told through the alternating voices of husband and wife. When All Is Said and Done is steeped in an era, but the anatomy of a marriage—comprised of humor, fear, love, and vulnerability—resonates through the ages.
Graywolf Press, 9781555974428, 112pp.
Publication Date: March 21, 2006
About the Author
Robert Hill writes advertising copy for movies and grants for not-for-profit organizations. He lives in Portland, Oregon.
In When All is Said and Done, the two main characters, Myrmy and Dan take turns narrating the story of their marriage. What would change if only Myrmy or only Dan (but not both) told their story? What is gained when two people tell the same story? If someone other than you or your spouse were to tell your story, what kinds of details would they miss? What would they be able to add?
Discuss the sacrifices that Myrmy and Dan make in order to build and maintain their marriage. Do you think their differences prevent them from being happy? How are the shortcomings of each compensated in other ways?
Discuss Myrmy's conversation with the real estate agent. Why does the agent decline to offer her services at first? How did Myrmy find the agent? How does the nature of the conversation change when the agent accidentally tells Myrmy about her problems with pregnancy?
. Dan seems to suffer from a mysterious disease that affects his mental and physical health. What causes him to change from a physically fit Army man to an overweight tie salesman with a heart problem? Does Myrmy's high-powered job threaten him? Or is he suffering from something in his past?
This book takes place at a time when women were just beginning to be hired for high-powered positions. How does Myrmy's career affect her relationships with the women in her life? How does it affect her self image?
In families with two working parents, children usually spend a signifi­cant amount of time with childcare workers. How do Myrmy and Dan interact with their children? How does the role of their nanny add or detract from their role as parents? How do childcare workers take part in family life? Who ultimately makes choices for the children; the parents or the childcare?  Does the active role played by childcare workers change the modern definition of a family?
There are times when Myrmy and Dan don't seem to know, or even like, the other person. Is it possible to truly ever "know" another person?
or
Not Currently Available for Direct Purchase