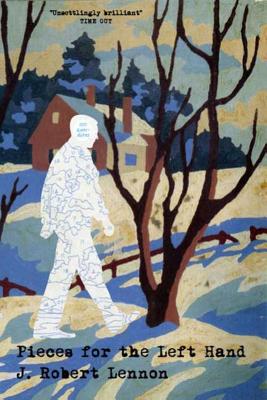 Pieces for the Left Hand
Stories
Paperback

* Individual store prices may vary.
Description
Finally available in the United States, a singular story collection that Time Out declared "unsettlingly brilliant"

Astudent's suicide note is not what it seems. A high school football rivalry turns absurd—and deadly. A much-loved cat seems to have been a different animal all along. A pair of identical twins aren't identical at all—or even related. A man finds his own yellowed birth announcement inside a bureau bought at auction. Set in a small upstate New York town, told in a conversational style, Pieces for the Left Hand is a stream of a hundred anecdotes, none much longer than a page. At once funny, bizarre, familiar, and disturbing, these deceptively straightforward tales nevertheless shock and amaze through uncanny coincidence, tragic misunderstanding, strange occurrence, or sudden insight. Unposted letters, unexpected visitors, false memories—in J. Robert Lennon's vision of America, these are the things that decide our fate. Wry and deadpan, powerful and philosophical, these addictive little tales reveal the everyday world as a strange and eerie place.
Praise For Pieces for the Left Hand: Stories…
"Pieces for the Left Hand consists of 100 very short stories . . . in which not a word is wasted, and not one of which could be cut. Despite its self-deprecating title, the collection is anything but offhand: it is a rigorous display of storytelling verve, quantity and control . . . It is his most perfect work so far." —WYATT MASON, London Review of Books
Graywolf Press, 9781555975234, 224pp.
Publication Date: March 31, 2009
About the Author
J. Robert Lennon is the author of five novels, including Mailman and The Light of Falling Stars. His stories have appeared in The Paris Review, Granta, Harper's, Playboy, and The New Yorker. He lives in Ithaca, New York, with his wife and two sons.