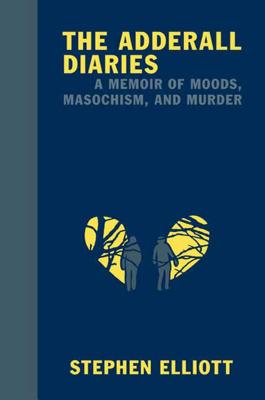 The Adderall Diaries (Hardcover)
A Memoir of Moods, Masochism, and Murder
Graywolf Press, 9781555975388, 224pp.
Publication Date: September 1, 2009
Other Editions of This Title:
Paperback, Large Print, Large Print (5/1/2010)
* Individual store prices may vary.
Description
In the spring of 2007, a brilliant computer programmer named Hans Reiser stands accused of murdering his estranged wife, Nina. Despite a mountain of circumstantial evidence against him, he proclaims his innocence. The case takes a twist when Nina's former lover, and Hans's former best friend, Sean Sturgeon, confesses to eight unrelated murders that no one has ever heard of.
At the time of Sturgeon's confession, Stephen Elliott is paralyzed by writer's block, in the thrall of Adderall dependency, and despondent over the state of his romantic life. But he is fascinated by Sturgeon, whose path he has often crossed in San Francisco's underground S&M scene. What kind of person, he wonders, confesses to a murder he likely did not commit? One answer is, perhaps, a man like Elliott's own father.
So begins a riveting journey through a neon landscape of false confessions, self-medication, and torturous sex. Set against the backdrop of a nation at war, in the declining years of the Silicon Valley tech boom and the dawn of Paris Hilton's celebrity, The Adderall Diaries is at once a gripping account of a murder trial and a scorching investigation of the self. Tough, tender, and unflinchingly honest, it is the breakout book by one of the most daring writers of his generation.
About the Author
Stephen Elliott is the author of seven books, including Happy Baby, a finalist for the New York Public Library's Young Lions Award. He is also the founding editor of the online culture magazine TheRumpus.net.
Praise For The Adderall Diaries: A Memoir of Moods, Masochism, and Murder…
"A refined, beautiful work of art. . . deserves a place on the shelf next to such classics of uninhibited American introspection as On the Road and A Fan's Notes." —Kirkus, starred review
"Brilliant, memorable prose. . . an unforgettable read." —Foreword
"You don't just read The Adderall Diaries; you fall right into them. You read as if you are a few words behind the writer, trying to catch up, to find out what happens, to yell at him that he's doing a great job. And he is. It's a brilliant book." —Roddy Doyle
"The Adderall Diaries is a startling and original concoction, an irresistible melding of reportage and memoir and reconstruction. This is Stephen Elliott's best book, perfectly suited to his gifts as a seeker, as a storyteller, as a poet of wounds, unwelcome and otherwise. " —Sam Lipsyte
"The Adderall Diaries is phenomenal. With jittery finesse and a reformed tweaker's eye for detail, Stephen Elliott captures the terrifying, hilarious, heart-strangling reality of a life whose scorched-earth physical and psycho-emotional dimensions no one could have invented--they absolutely had to be lived. By all rights, the author should either be dead or chewing his fingers in a bus station. Instead, he may well have written the memoir of an entire generation. " —Jerry Stahl
"I felt like a voyeur reading Stephen Elliott's memoir--what is shocking and unbearable to most of us is commonplace to him. Although a murder trial provides the structure for this book, it is really about the strangeness of life, about things that don't make sense and never will, about lessons that don't get learned, and ultimately about what we can and can't know about ourselves and others. Reading The Adderall Diaries is like taking a step toward the edge of a cliff so you can peer down and imagine what it might be like to slip and fall. Normally we shudder and step back. Stephen Elliott jumps, and his harrowing, riveting memoir convinces you to follow him vicariously." —Amy Tan
"The Adderall Diaries begins like the ocean, seemingly able to take in everything--prize fights to Paris Hilton--until the ocean forms into a river, making its way through unmapped territories--a murder, an absent father--and finally this river is distilled into one precious teardrop. Stephen Elliott is one of those 'people who keep searching when everything is dark'--I don't know a more hauntingly fearless writer, and this is an immediate, visceral, and ultimately beautiful book." —Nick Flynn