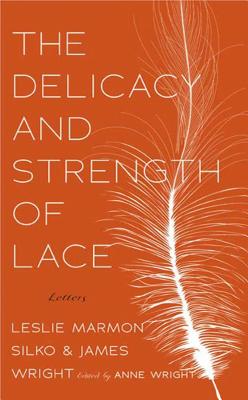 The Delicacy and Strength of Lace (Paperback)
Letters Between Leslie Marmon Silko and James Wright
Graywolf Press, 9781555975432, 112pp.
Publication Date: October 27, 2009
* Individual store prices may vary.
Description
The Delicacy and Strength of Lace
The timeless exchange of advice and friendship between two of our greatest literary talents
Dear Leslie: Of course I can't know whether or not the world looks strange to God. But sometimes it looks strange to me.

Leslie Marmon Silko and James Wright met only twice. First, briefly, in 1975, at a writers' conference in Michigan. Their correspondence began three years later, after Wright wrote to Silko praising her book Ceremony. The letters began formally, and then each writer gradually opened to the other, sharing his or her life, work, and struggles. The second meeting between the two writers came in a hospital room, as Wright lay dying of cancer.
The New York Times wrote something of Wright that applies to both writers—of qualities that this exchange of letters makes evident: "Our age desperately needs his vision of brotherly love, his transcendent sense of nature, the clarity of his courageous voice."
About the Author
Anne Wright, wife of James Wright (1927-80) edited Wild Perfection and Selected Poems.