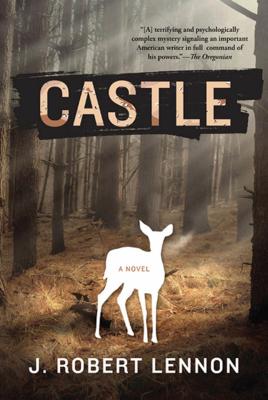 Castle
A Novel
Paperback

* Individual store prices may vary.
Other Editions of This Title:
Hardcover (3/31/2009)
Description
Castle by J. Robert Lennon
"Castle tells a terrific story, dire and confusing and convincing." —Scott Bradfield, The New York Times Book Review

Eric Loesch, a private man with a shadowy past, returns to his hometown in rural New York, where he purchases a dilapidated house that he begins to renovate with steely determination. The adjacent woods on his property seem to beckon him, and he soon discovers a Gothic castle at the center of his land that he appears not to own. Loesch looks for an explanation, and the reader is drawn into a "terrifying and psychologically complex mystery signaling an important American writer in full command of his powers."*
Praise For Castle: A Novel…
"[This] slow-burning work turns into a quickly moving page turner, morphing into a brilliant, classical, psychological horror story that sticks to and gnaws at the bones. Comparisons to Jack London or Hemingway are obvious, but in Loesch, Lennon has invented his own dark-burning mythology." —Jeff Baker, The Oregonian
"Lennon displays an expert ability to fracture his narrator's iron resolve with a steady series of disquieting revelations." —LAURA STOKES, Bookforum
"It's only natural for novels to portray this chaotic moment in history, but few will tackle that task with the complexity and eeriness of [Castle] . . . [A] virtuoso performance." —WILLIAM J. COBB, The Dallas Morning News
Graywolf Press, 9781555975593, 240pp.
Publication Date: April 27, 2010
About the Author
J . ROBERT LENNON is the author of six novels and a story collection, Pieces for the Left Hand. His fiction has appeared in The Paris Review, Granta, Harper's Magazine, Playboy, and The New Yorker. He lives in Ithaca, New York.
Eric Loesch evades the questions he is asked by the Gerrysberg townspeople, and at times he even grows belligerent in response to their prodding. The reader does not initially know why he is keeping his distance from them or what he is being defensive about—what effect does this have on your perception of the protagonist?
How much do the townspeople know about Loesch, his family history, and his war experience? How does this information affect their behavior toward him, and what does their behavior suggest about the American public's attitude toward its returning veterans?
Loesch is asked by three different characters—the real estate agent, his sister, and finally Professor Stiles – why he has returned to Gerrysburg before he poses the question himself toward the novel's end. Do you believe Loesch when he claims that he "didn't believe that [he'd] ever known" the reason he decided to return home?
For the first two-thirds of Castle, Loesch does not explain the significance of objects from his childhood or the landscape he once inhabited- the locomotive, the rock outcrop, the castle, and his toys – and yet he conveys to the reader his strong emotional responses to these things. When Loesch first finds the castle, he reports, "It was as though something hanging crookedly in my mind had finally been righted." What does Loesch remember? Is this a case of repressed memory or something else?
J. Robert Lennon describes the woods as a place beset by a dark history, almost as though it were haunted. And then there is the mysterious castle at its center. Is this a realistic novel or an allegory? What is the castle's metaphoric significance?
Discuss the relationship between young Loesch and Doctor Stiles. Why does Loesch turn away from his father and toward the strict disciplinarian Stiles?
Why does Loesch's father seem intent on having his son "trained" by the professor? What does he feel is lacking in his son, and in the broader culture of that time?
Before ordering Loesch to torture a squirrel, Doctor Stiles tells the boy: "In what we think of as the civilized world—a world, I must inform you, Eric, that is soon to collapse into chaos and lawlessness—it is a virtue to do no harm. In the world to come, it will be a skill as valuable to you as the ability to start a fire, or build a shelter." To what degree does the professor's prophetic vision eventually become Loesch's reality? What is the relationship between Loesch's eager submission to authority and the likelihood of violence?
Loesch says, "I gazed out upon the busy lives of civilians, who had already grown weary of the war, which they thought they'd been permitted to forget, which was supposed to fade away into a memory of triumph." Lennon seems to be making a point about the American public's complicity in the violence of the Iraq War. Is it "forgetfulness" that allows the public to distance itself from the war, or something else?
As Loesch leaves for his next mission at the novel's end, he says, "I took a last look around the house, pleased at the work I had done, pleased at everything I had learned since my return to Gerrysburg." What has Loesch learned from his time in Gerrysburg?
or
Not Currently Available for Direct Purchase