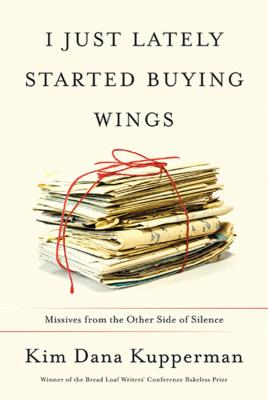 I Just Lately Started Buying Wings (Paperback)
Missives from the Other Side of Silence
Graywolf Press, 9781555975609, 224pp.
Publication Date: June 22, 2010
* Individual store prices may vary.
Description
I Just Lately Started Buying Wings is a finely crafted debut, winner of the 2009 Bakeless Nonfiction Prize
Kim Dana Kupperman's essays plumb the emotional and spiritual depths of a transitory life. Her episodic "missives" cover territory from the chaos of a frenetic childhood to love affairs, failed and otherwise, to the Chernobyl nuclear accident, to an ocean-crossing search for her Eastern European roots. In confident, lyrical prose, Kupperman leads the reader through a winding gallery—a collection of still lifes and portraits, landscapes of loneliness and love.
About the Author
Kim Dana Kupperman's work has appeared in Best American Essays and many literary journals. She is the founder of Welcome Table Press and works as a managing editor of The Gettysburg Review.
Praise For I Just Lately Started Buying Wings: Missives from the Other Side of Silence…
"[These essays] return readers to the fundamental nonfiction experience, an immersion in real life, exquisitely rendered. Here is a world--her world--so finely observed that it becomes our world, too. Here is a voice, both smoldering and meditative, that inhabits every page like an attentive host, inviting us in and offering no choice but to step over the threshold." —Sue Halpern, Bakeless Nonfiction Judge
"'Go fish, Kimche, go fish,' says her grandmother Fanya. And fish Kim Dana Kupperman does, down into the deep uncertain pool of suicide, death by AIDS, religious identity, bodies altered by the radiation poured forth at Chernobyl. These linked stories add up to a life--her life--in ways that are both harrowing and affirming, and that command our readerly respect." —Albert Goldbarth, Author of The Kitchen Sink and To Be Read in 500 Years
"Kim Dana Kupperman is many things in this collection of essays--a daughter of tumultuous parents, granddaughter in search of her Ukrainian grandmother, sister of variously troubled half-brothers, a woman trying to sort through the vagaries of her own heart. We note the many things she is and has been, but what is even more exciting in this brilliant debut is that we feel in the presence of a writer. With sensuous, precise, and superbly crafted language, Kupperman gives us what literature at its best does: compelling stories artfully told." —Barbara Hurd, author of Walking the Wrack Line: On Tidal Shifts and What Remains
"In prose that is by turns lyrical and precise, Kim Kupperman examines the mystery and depth of the human heart. Generous, forceful, and compassionate, I Just Lately Started Buying Wings is a stunning debut by an essayist of the first rank." —Michael Steinberg, Founding Editor, Fourth Genre
"A remarkably talented writer, Kim Dana Kupperman understands the essay first and foremost as a literary form. Yet she never ventures into craft or creativity for its own sake. I Just Lately Started Buying Wings is a high-voltage book grounded in the passionate and often messy business of living. And best of all with these essays, something vital is always at issue." —Robert Atwan, Series Editor, The Best American Essays
or
Not Currently Available for Direct Purchase