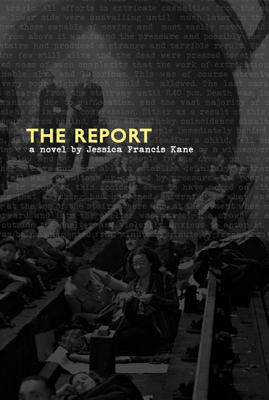 The Report
A Novel
Paperback

* Individual store prices may vary.
Other Editions of This Title:
MP3 CD (7/26/2016)
Description
A stunning first novel that is an evocative reimagining of a World War II civilian disaster
On a March night in 1943, on the steps of a London Tube station, 173 people die in a crowd seeking shelter from what seemed to be another air raid. When the devastated neighborhood demands an inquiry, the job falls to magistrate Laurence Dunne.
In this beautifully crafted novel, Jessica Francis Kane paints a vivid portrait of London at war. As Dunne investigates, he finds the truth to be precarious, even damaging. When he is forced to reflect on his report several decades later, he must consider whether the course he chose was the right one. The Report is a provocative commentary on the way all tragedies are remembered and endured.
Praise For The Report: A Novel…
"[Kane] moves deftly among perspectives on the [Bethnal Green] catastrophe: We eavesdrop on war-battered townsfolk, the tardy policeman, the overburdened priest, the devastated shelter-chief who feels responsible. Kane's command of period detail is marvelous. . . . A deft, vivid first novel." —Kirkus Reviews
"Kane skillfully reimagines the empathetic [Laurence] Dunne as he interprets the confessions and accusations of a community crushed by loss and guilt. . . . Meticulous historical detail and vivid descriptions of hunkered-down and rationed East Enders add a marvelous texture." —Publishers Weekly
"The Report is a graceful and dignified look at a single event that quickly becomes something so much more expansive: a kaleidoscopic examination of crowds, of disasters, of reverberations and reckoning. I was absolutely riveted." —Anthony Doerr, author of Memory Wall and The Shell Collector
"I began reading this story hoping it would aim my judgment at some one person who had made the fatal mistake. But The Report cracks that hope and replaces it—as only the bravest novels can do—with a vivid exploration of the events themselves in all their disquieting tangles. This book shows us that the single sin for which judgment hopes is a lie. The truth is not one misstep but a horde of them, hidden in a tunnel that this novel brilliantly excavates." —Salvatore Scibona, author of The End
"An absorbing, thought-provoking first novel about a terrible civilian tragedy during wartime, The Report manages the delicate literary feat of being both a probing historical inquiry into a disaster, and a moving, multi-faceted portrait of a community under extreme duress. Jessica Francis Kane's authorial control of her material is impressive; the book's moral complexities linger long after the book is finished. A memorable debut." —John Burnham Schwartz, author of The Commoner and Reservation Road
"Elegantly written and suffused with insights into human motivation, The Report illuminates how we interpret and endure tragedy. This novel is engrossing both for the story it tells and the way it tells it. It is filled with small wonders and very hard to put down." —Elise Blackwell, author of An Unfinished Score
"Jessica Francis Kane's The Report is a stealthy, quiet page-turner that understands there is as much tension in reckoning a disaster as there is in the disaster itself. In precise and searching prose, The Report looks without flinching at moral obligation and family duty over seconds, and over years. It's a lovely book." —Elizabeth McCracken, author of An Exact Replica of a Figment of My Imagination
"Neat, sharp, observant, and with a good ear, so that she hits the note every time… She's discerned the enormous gap between what people say and do, and what is actually going on inside them, and in that gap she moves swiftly and nimbly… An author to watch." —Hilary Mantel, author of Wolf Hall with praise for Jessica Francis Kane
Graywolf Press, 9781555975654, 256pp.
Publication Date: August 31, 2010
About the Author
Jessica Francis Kane is the author of the story collection Bending Heaven. Her stories have been broadcast on BBC radio and have appeared in a many publications, including Virginia Quarterly Review, McSweeney's, the Missouri Review, and Michigan Quarterly Review. Her essays and humor pieces have appeared in McSweeney's Internet Tendency and The Morning News.org, where she is a contributing writer. She lives in New York with her husband and their two children.
Throughout The Report, Jessica Francis Kane does a wonderful job of dropping hints regarding what really happened on the night of March 3. Did you notice these hints as you read? If so, did they help you to figure out Ada's role in the matter before Laurie revealed it?
The novel is structured so that the narrative moves back and forth between 1943 and 1973. How did this enhance your reading? Did you find it effective and satisfying when the two stories synced up at the novel's end?
At the beginning of the third section, Kane writes: "The tragedy does not remain the story. As with any other public property, it is transformed by use" (73). Do you agree with this statement? What contemporary tragedies do you think have been "transformed by use"?
Several chapters in the novel's third section consist of snippets of conversations between Laurie and the witnesses. Did you find these anonymous accounts compelling? What kind of effect do you think Kane was after?
During questioning, Constable Henderson says to Laurie, "It's hard, sir, to know what's right" (138). Do you believe that sometimes accidents are unavoidable? Do you think the crush could have been prevented?
During his conversation with Reverend McNeely after writing the report, Laurie says that "perhaps we should only sometime be held accountable for the unintended consequences of our actions" (203).Do you think Ada Barber is responsible for the deadly crush? Or do you agree with Laurie that she shouldn't be held accountable?
After James Low's funeral, Ada comes to this conclusion: "Surviving some disasters . . . you don't get to be happy again. You simply change, and then you decide if you can live with the change" (225). Do you agree with this or do you think that tragedy can transform some people for the better? Is it ever really possible to move on from a tragedy?
The novel's last chapter seems to be the actual report Laurie wrote yet reads as something more lyrical and poetic. Do you think this is just a meditative final chapter? Or do you think this was the report Laurie originally submitted? Do you think it is an accurate reporting of the incident?
What sort of similarities, if any, do you see between the cultural impact of the report and the 9/11 Commission Report?
Coverage from NPR
or
Not Currently Available for Direct Purchase