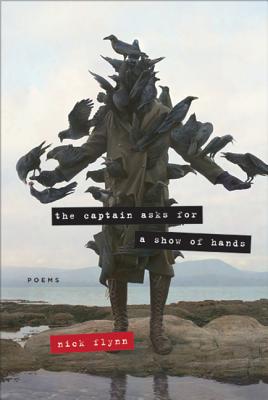 The Captain Asks for a Show of Hands (Hardcover)
Poems
Graywolf Press, 9781555975746, 80pp.
Publication Date: February 1, 2011
* Individual store prices may vary.
Description
New poetry by the acclaimed writer Nick Flynn, author of Another Bullshit Night in Suck City and The Ticking Is the Bomb
electrocution, no—the boy stood in the hot-hot room
stammering I did stammering I did stammering I
did stammering I did stammering everything you say I did
I did.
—from "Fire"

The Captain Asks for a Show of Hands is Nick Flynn's first new poetry collection in nearly a decade. What begins as a meditation on love and the body soon breaks down into a collage of voices culled from media reports, childhood memories, testimonies from Abu Ghraib detainees, passages from documentary films, overheard conversations, and scraps of poems and song, only to reassemble with a gathering sonic force. It's as if all the noise that fills our days were a storm, yet at the center is a quiet place, but to get there you must first pass through the storm, with eyes wide open, singing. Each poem becomes a hallucinatory, shifting experience, through jump cut, lyric persuasion, and deadpan utterance. This is an emotional, resilient response to some of the essential issues of our day by one of America's riskiest and most innovative writers.
About the Author
NICK FLYNN's work—which includes Another Bullshit Night in Suck City, winner of the PEN/Martha Albrand Award for Memoir, and the poetry collections Blind Huber and Some Ether—has been translated into thirteen languages.
Praise For The Captain Asks for a Show of Hands: Poems…
"With The Captain Asks for a Show of Hands, Nick Flynn has written a rare lyrical interrogation of brutality in the light of conscience, an unsparing témoignage that sings back to redacted documents, to memoranda governing torture protocols, to night & prison & desert & darkness. This is a poetry that should be read out before the Permanent Court of International Justice in The Hague. Read and be filled with awe, sorrow and gratitude for this poet's gifts and spiritual courage." —Carolyn Forché
"Once again, the unstoppable Nick Flynn has flung open a door we didn't know existed. Threaded with dark humor and kickass tweaks to the predictable, The Captain Asks for a Show of Hands is a biting and sparse revelation, a lyrical narrative that unfurls to reveal truths that are insistent and vaguely unsettling. '...isn't it time to admit,' Flynn asks, 'we are more machinery than gods / that our house is more maze than temple?' Yes, it's time-and Flynn's deft, blade-edged poetics shove us toward many such insights, with a signature he has defined as solely his own." —Patricia Smith
"Nick Flynn has written-in the tradition of poets such as Yeats, Whitman, Neruda, Bly, and Ginsberg-a book of political lyric poetry. The book contains, as well, fragile self-transcendence, unself-conscious witness, and the unnoticed heroism of having done or said something against a world as welcoming and congenial to evil as ours appears to be right now." —Franz Wright
"I've been waiting for this book for several years now. In fact, I've often argued the need for writers to pick up the pen with this subject in mind. Still-how much easier it is to look away. To not face our own complicity. Our own culpable part within the larger historical whole. Thankfully, in The Captain Asks for a Show of Hands, Nick Flynn chooses not to turn away. Instead, he brings us a poetry which serves as a witness to torture. It is a necessary investigation into our shared humanity and into the depravations which undermine it. And while it's true that to enter this book is to enter into an intimate world of institutionalized pain, the Reader will also discover in these pages that the "first thing we should do / if we see each other again is to make / a cage of our bodies-inside we can place / whatever still shines." —Brian Turner, author of Here, Bullet
"This book is a serious one. It's asking difficult questions instead of dancing a post-postmodern dance. It dialogues with suffering and with Paul Celan's 'Deathfugue.' It's an important book." —Adam Zagajewski
or
Not Currently Available for Direct Purchase