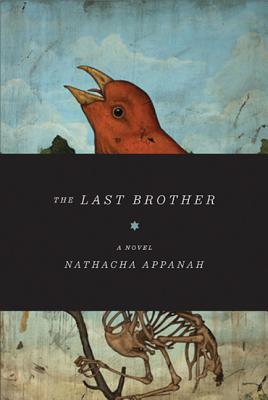 The Last Brother
A Novel
Paperback

* Individual store prices may vary.
Description
In The Last Brother by Nathacha Appanah, 1944 is coming to a close and nine-year-old Raj is unaware of the war devastating the rest of the world. He lives in Mauritius, a remote island in the Indian Ocean, where survival is a daily struggle for his family. When a brutal beating lands Raj in the hospital of the prison camp where his father is a guard, he meets a mysterious boy his own age. David is a refugee, one of a group of Jewish exiles whose harrowing journey took them from Nazi occupied Europe to Palestine, where they were refused entry and sent on to indefinite detainment in Mauritius.
A massive storm on the island leads to a breach of security at the camp, and David escapes, with Raj's help. After a few days spent hiding from Raj's cruel father, the two young boys flee into the forest. Danger, hunger, and malaria turn what at first seems like an adventure to Raj into an increasingly desperate mission.
This unforgettable and deeply moving novel sheds light on a fascinating and unexplored corner of World War II history, and establishes Nathacha Appanah as a significant international voice.
Praise For The Last Brother: A Novel…
"In a lucid and elegiac voice, Appanah inscribes onto the tablets of history a little known episode of the Jewish exodus during WWII. A young boy's life is forever changed when he decides he must save the single friend he has in the wake of losing his own two brothers. It is a mournful yet vividly affecting story, set on a tropical island ruled by stark contrasts, of how one tries to live with the burden of loss and the acceptance of responsibility." —MARIE DU VAURE, Copperfield's Books
"Appanah's descriptions are meticulous, and the heartbreakingly endearing Raj makes for an unforgettable protagonist." —PUBLISHERS WEEKLY, starred review
"The Last Brother is a wonder of concision and power. Appanah has created a memorable character that demonstrates the resilience of an individual in the face of the barbarism that we sometimes call history. Appanah's ability to create such a nuanced character and story allows us to step into a history that has remained obscure to many of us. I am a delightfully astonished reader." —PAUL YAMAZAKI, City Lights Booksellers
"Nathacha Appanah's The Last Brother is one of the most beautiful, contained portrayals of devastating loss and profound longing that I've ever read. An older man gives voice and remembrance to his younger self, bringing to vivid life a childhood marked by brutality, separation, and death, but also cunning, connection, and survival. With the lightest of touches, the author movingly conveys a child discovering his own mysteries, then navigating those of a baffling, larger world." —RICK SIMONSON, Elliott Bay Book Company
"Beautifully poised and very lyrical." —CARYL PHILLIPS
"Poetic, occasionally rapturous prose." —KIRKUS REVIEWS
"Reading The Last Brother is like entering into a Grimms' fairy tale where the darkness of the forest is met only by the greater darkness of human cruelty. Nathacha Appanah has beautifully rendered this tangled world through the innocent perspective of a boy who apprehends and misapprehends eventsÑhistorical and personal--that unfold around him. An important story, lyrical, grave, and gorgeously told." —VICTORIA REDEL
"A disturbing and extraordinarily sensitive story around the tragic odyssey of Jewish refugees." —Le Monde (Paris)
"In Geoffrey Strachan's sumptuous translation, we follow a fairy-tale flight from persecutions, small and large, that bonds two boys from different ends of a suffering earth." —The Independent
Graywolf Press, 9781555975753, 208pp.
Publication Date: February 1, 2011
About the Author
NATHACHA APPANAH, a French-Mauritian of Indian origin, was born in Mauritius and worked there as a journalist before moving to France in 1998. The Last Brother, her fourth novel, won the Prix de la FNAC 2007 and the Grand Prix des Lecteurs de L'Express 2008.

Geoffrey Strachan is an award-winning translator.
or
Not Currently Available for Direct Purchase