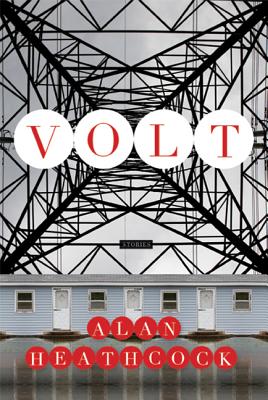 Volt
Stories
Paperback

* Individual store prices may vary.
Description
A blistering collection of stories from an exhilarating new voice

One man kills another after neither will move his pickup truck from the road. A female sheriff in a flooded town attempts to cover up a murder. When a farmer harvesting a field accidentally runs over his son, his grief sets him off walking, mile after mile. A band of teens bent on destruction runs amok in a deserted town at night. As these men and women lash out at the inscrutable churn of the world around them, they find a grim measure of peace in their solitude.

Throughout Volt, Alan Heathcock's stark realism is leavened by a lyric energy that matches the brutality of the surface. And as you move through the wind-lashed landscape of these stories, faint signs of hope appear underfoot. In Volt, the work of a writer who's hell-bent on wrenching out whatever beauty this savage world has to offer, Heathcock's tales of lives set afire light up the sky like signal flares touched off in a moment of desperation.
Praise For Volt: Stories…
"The stories in Volt are intense, suspenseful, and utterly compelling. Heathcock writes about violence and bad luck and bad choices with a cool, grim eye that recalls Cormac McCarthy, yet he also approaches the hard lives of his stoic Westerners with great empathy and compassion and heart—a kind of miraculous combination. By turns hair-raising and tender, the tales in this collection draw you into a tough, bleak, beautiful world that you won't soon forget." —Dan Chaon, author of Await Your Reply

"Alan Heathcock is an epic storyteller—and Volt is an epic collection. You will come away from each of these majestic stories thrilled, alternately terrified and heartened, ultimately full of wonder at how the author manages to make twenty pages so timeless, so deep and sweeping—every story like a novel writ small." —Benjamin Percy, author of The Wilding and Refresh, Refresh

"Volt is booming, cracking good. Heathcock's characters are trying to make things right, whether they're busting up a town, avenging the grief of a mother, or trying to live with the self-imposed judgment of loyalty or remorse. Guilt and grace are the pillars of this excellent collection, and there are no stronger or more mysterious pillars than those." —Joy Williams, author of Honored Guest and The Quick and the Dead

"This is a big, ravishing, commanding story collection. Heathcock presents a riveting portrait of an imaginary town called Krafton: through its streets and farms and minds spin questions about civilization and wilderness, lawkeeping and lawlessness, faith and faithlessness. Each story in its way shows how we reverberate after tragedy, and how we try—and sometimes fail—to vibrate our way back toward equilibrium. Volt is (dare I say it?) electrifying." —Anthony Doerr, author of Memory Wall and The Shell Collector

"In the tradition of Breece D'J Pancake and Kent Meyers, Alan Heathcock turns his small town into a big canvas. Like the tales in Winesburg, Ohio, the stories in Volt are full of violence and regret, and the sad desperation of the grotesque." —Stewart O'Nan, author of Songs for the Missing

"Alan Heathcock's voice is the American voice, doing what it was meant to do. It's full of distance and wind, highways and heart. He's the real deal." —Luis Alberto Urrea, author of Into the Beautiful North

"The stories in Volt are rich in surprise moments of brightness and bleakness, told in strong straight sentences. Alan Heathcock has a cowpoke's eye for the bloom and detritus of the landscape, and language that puts one right there in the picture, banging through the greasewood, the cornfield, crossing the flats and sudden gullies. These are tough and potent stories, deeply felt and imagined. Heathcock is a writer who goes without flinching into the darker corners of human experience, but has the grace to bring any available light with him." —Dan Chaon, author of Await Your Reply

"Alan Heathcock's Volt is simply masterful. Its weave of stories is heart-filling and breath-stopping and his language achingly spare and yet, mysteriously generous, kind and luxurious. Take your time when you read it and then read it again." —Robert Olmstead, author of Far Bright Star

"Alan Heathcock doesn't so much write stories as fire them like bullets-they speed into the reader's consciousness and zip toward an impact that feels both stunning and irreversible. These are stories that arrive fast, hit hard, and linger." —Keith Lee Morris, author of The Dart League King
Graywolf Press, 9781555975777, 208pp.
Publication Date: March 1, 2011
About the Author
Alan Heathcock has won a Whiting Award and a National Magazine Award, and has received fellowships from the National Endowment for the Arts, the Sewanee Writers' Conference, the Bread Loaf Writers' Conference, the Lannan Foundation, and the Idaho Commission on the Arts. His story collection Volt was selected as a best book of the year by numerous newspapers and magazines, including GQ, Publishers Weekly, Salon, and the Chicago Tribune; was named a New York Times Editors' Choice; and was a finalist for the Barnes & Noble Discover Award.
or
Not Currently Available for Direct Purchase