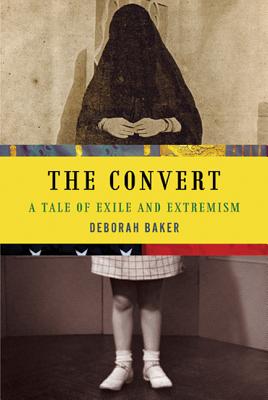 The Convert (Hardcover)
A Tale of Exile and Extremism
Graywolf Press, 9781555975821, 224pp.
Publication Date: May 10, 2011
Other Editions of This Title:
Digital Audiobook (8/2/2012)
Paperback (9/4/2012)
* Individual store prices may vary.
Description
*A 2011 National Book Award Finalist*
A spellbinding story of renunciation, conversion, and radicalism from Pulitzer Prize-finalist biographer Deborah Baker
What drives a young woman raised in a postwar New York City suburb to convert to Islam, abandon her country and Jewish faith, and embrace a life of exile in Pakistan? The Convert tells the story of how Margaret Marcus of Larchmont became Maryam Jameelah of Lahore, one of the most trenchant and celebrated voices of Islam's argument with the West.
A cache of Maryam's letters to her parents in the archives of the New York Public Library sends the acclaimed biographer Deborah Baker on her own odyssey into the labyrinthine heart of twentieth-century Islam. Casting a shadow over these letters is the mysterious figure of Mawlana Abul Ala Mawdudi, both Maryam's adoptive father and the man who laid the intellectual foundations for militant Islam.
As she assembles the pieces of a singularly perplexing life, Baker finds herself captive to questions raised by Maryam's journey. Is her story just another bleak chapter in a so-called clash of civilizations? Or does it signify something else entirely? And then there's this: Is the life depicted in Maryam's letters home and in her books an honest reflection of the one she lived? Like many compelling and true tales, The Convert is stranger than fiction. It is a gripping account of a life lived on the radical edge and a profound meditation on the cultural conflicts that frustrate mutual understanding.
About the Author
Deborah Baker is the author of In Extremis: The Life of Laura Riding, a finalist for the Pulitzer Prize, as well as A Blue Hand; The Beats in India. She divides her time between Calcutta, Goa, and Brooklyn.
Praise For The Convert: A Tale of Exile and Extremism…
"The Convert is the most brilliant and moving book written about Islam and the West since 9/11." —Ahmed Rashid
"[Deborah] Baker's captivating account conveys the instability, faith, politics, and improbable cultural migration that make [Maryam] Jameelah's life story so difficult to sum up yet impossible to dismiss." —The New York Times Book Review
"[A] stellar biography that doubles as a mediation on the fraught relationship between America and the Muslim world. . . . [The Convert] is a cogent, thought-provoking look at a radical life and its rippling consequences." —Publishers Weekly (starred review)
"[The Convert] is more than a biography; it gets at the heart of the ongoing conflict between Islam and the West." —Marie Claire
"[A] profoundly disorienting biography. . . . The story [Baker] is telling is like a hall of mirrors in a fun house--full of so many distortions that the truth can come only in glimpses. The life story of Maryam Jameelah seems to have alternately fascinated, disturbed, and unsettled Deborah Baker. It is guaranteed to do the same to her readers." —Christian Science Monitor
"[Baker] opens the door to the vital questions of how radical Islam has impacted the world, and what part converts such as [Maryam] Jameelah have played. . . . An important, searing, highly readable and timely narrative." —Kirkus Reviews (starred review)
"Spellbinding. . . . Baker's investigation of [Maryam] Jameelah yields mysteries and surprises galore. A significant contemporary figure in Islamic-Western relations becomes human, with all the foibles and angst that word implies." —Library Journal (starred review)
"[The Convert is] a new biography as absorbing as an excellent detective story. . . . Cutting back and forth between Margaret/Maryam's two perplexing lives, Baker gives us a miserable, privileged woman whose argument with her home was so strong that hers became one of the most trenchant voices of Islam's argument with the West. In this superb biography, Baker makes it an argument worth our attention." —Cleveland Plain Dealer
"By unpacking the boxes and piecing together [Maryam] Jameelah's complicated life, Baker untangled a nonfiction narrative as surreal as any fairy tale. . . . engrossing." —Star Tribune (Minneapolis)
"Baker is a remarkable writer. The Convert, despite the implications of the subject matter, finds the irony, the humor and the greatly perplexing disunity in the struggles of the key players. Baker also finds a way to present this story so that it is a readable, page-turning parallel to her own journey of amazing discovery. The book is valuable for its historical insights, its timeliness, its portraits of human beings torn by passion and intellect, and for its model of splendid writing and reporting." —Rae Francoeur, GateHouse News Service
"This book is a beautiful illustration of a profoundly unique person, Maryam Jameelah. If you like a biography with a twist, The Convert is for you." —Jewcy
"With remarkable even-handedness, Deborah Baker reveals the terrible costs of belonging exacted by two very different, battling cultures. Sweeping books on the big wars can't do what this focused gaze on a single misfit so vividly accomplishes." —Kiran Desai, author of The Inheritance of Loss
"In this unusual, sometimes funny and sometimes frightening biography Deborah Baker deftly explores the urgency and lunacy of conversion, Pakistan--and America's--romance with fundamentalism, and the necessity for a less blinkered vision of Islam." —Fatima Bhutto
"Deborah Baker's astonishing book reads like a detective story but is also a work of enormous beauty and understanding. She has explored the most difficult of subjects in an evocative and original way, powerfully conjuring a bygone, albeit simpler era when an argument between Islam and the West first arose fifty years ago. The Convert is the most brilliant and moving book written about Islam and the West since 9/11." —Ahmed Rashid, author of Taliban and Descent into Chaos
or
Not Currently Available for Direct Purchase