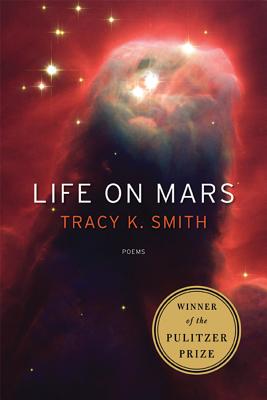 Life on Mars
Poems
Paperback

* Individual store prices may vary.
Other Editions of This Title:
Digital Audiobook (9/11/2017)
Compact Disc (9/12/2017)
Compact Disc (9/12/2017)
MP3 CD (9/12/2017)
Description
Winner of the 2012 Pulitzer Prize

* Poet Laureate of the United States *
* A New York Times Notable Book of 2011 and New York Times Book Review Editors' Choice *
* A New Yorker, Library Journal and Publishers Weekly Best Book of the Year *

New poetry by the award-winning poet Tracy K. Smith, whose "lyric brilliance and political impulses never falter" (Publishers Weekly, starred review)

You lie there kicking like a baby, waiting for God himself
To lift you past the rungs of your crib. What
Would your life say if it could talk?
—from "No Fly Zone"


With allusions to David Bowie and interplanetary travel, Life on Mars imagines a soundtrack for the universe to accompany the discoveries, failures, and oddities of human existence. In these brilliant new poems, Tracy K. Smith envisions a sci-fi future sucked clean of any real dangers, contemplates the dark matter that keeps people both close and distant, and revisits the kitschy concepts like "love" and "illness" now relegated to the Museum of Obsolescence. These poems reveal the realities of life lived here, on the ground, where a daughter is imprisoned in the basement by her own father, where celebrities and pop stars walk among us, and where the poet herself loses her father, one of the engineers who worked on the Hubble Space Telescope. With this remarkable third collection, Smith establishes herself among the best poets of her generation.
Praise For Life on Mars: Poems…
"In Life on Mars, Smith shows herself to be a poet of extraordinary range and ambition. It's not easy to be so convincing in both the grand gesture and the reverent contemplation of a humble plate of eggs. . . . As all the best poetry does, Life on Mars first sends us out into the magnificent chill of the imagination and then returns us to ourselves, both changed and consoled." —Joel Brouwer, The New York Times Book Review

"[Life on Mars] is by turns intimate, even confessional, regarding private life in light of its potential extermination, and resoundingly political, warning of a future that 'isn't what it used to be,' the refuse of a party piled with 'postcards / And panties, bottles with lipstick on the rim.' " —Dan Chiasson, The New Yorker

"The book's strange and beautiful first section pulses with America's adolescent crush on the impossible, on what waits beyond the edge of the universe. . . . But what's most satisfying about [Life on Mars] is that after the grand space opera of Part 1, with its giddy name checks of 2001 and David Bowie, Ms. Smith shows us that she can play the minor keys, too. Her Martian metaphor firmly in place, she reveals unknowable terrains: birth and death and love." —Dana Jennings, The New York Times

"[Life on Mars] blends pop culture, history, elegy, anecdote, and sociopolitical commentary to illustrate the weirdness of contemporary living. . . . The title poem, which includes everything from 'dark matter' and 'a father.../ who kept his daughter/ Locked in a cell for decades' to Abu Ghraib is proof that life is far stranger and more haunting than fiction." —Publishers Weekly (starred review)

"Hypnotic and brimming with irony, the poems in Smith's latest volume aren't so much about outer space as the interior life and the search for the divine. . . . The spiritual motif running through these poems adds a stunning dimension that will please many readers." —Library Journal

"[Tracy K. Smith is] one of the finest poets writing right now." —Gabrielle Calvocoressi, The Miami Herald

"In Life on Mars, a vibrant collection of verse, Smith pays homage to David Bowie ('the Pope of Pop'), Stanley Kubric, the Hubble Telescope, JFK airport and more. It's a gripping, intergalactic ride that marvels at the miracles and malfunctions of our ever changing world. 'Like a wide wake, rippling/Infinitely into the distance, everything/That ever was still is, somewhere.'" —More Magazine

"[The poems] are smart, funny, and expertly crafted." —San Francisco Chronicle, Best Poetry of 2011

"A strong, surprising, and often beautiful book. . . . Consistently surprising and demanding, Life on Mars gives materiality to Victor Martinez's statement that 'poetry is the essence of thinking.' " —Sean Singer, The Rumpus
Graywolf Press, 9781555975845, 88pp.
Publication Date: May 10, 2011
About the Author
Tracy K. Smith is the author of two previous poetry collections: Duende, winner of the James Laughlin Award, and The Body's Question, winner of the Cave Canem Poetry Prize. She teaches at Princeton University and lives in Brooklyn, New York.
Coverage from NPR