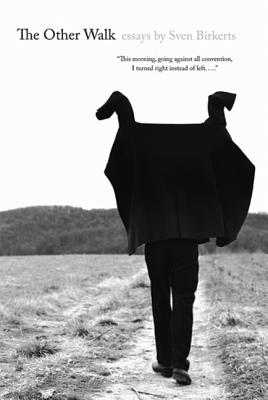 The Other Walk
Essays
Paperback

* Individual store prices may vary.
Description
Other Walk is a series of autobiographical pieces by the master of reflection and slow time
Throughout his life, Sven Birkerts, one of the country's foremost literary critics, has carved out time for himself—to walk, to swim, to read, to contemplate. Now in his late fifties, he has clocked up many thousands of hours of reflection. It shows in his prose, which proceeds at a refreshingly deliberative pace as it draws the reader into his patterns and rhythms.
In this deeply appealing and engaging collection of essays, Birkerts looks back through his own life, as well as at the generations before him, and ahead at the lives of his children. We read how the writer witnesses his son's frightening sailing accident, how he feels when he encounters his own prose from many years ago, how finding a cigarette lighter or a lost ring releases a cascade of memories. The objects he sees around him—old friends, remembered places—are excavated, their layers exposed.
But most winning of all is the emerging character of Birkerts himself. We come to have great respect for this competitive but deeply loyal friend, the caring father who respects his children's independence even as he tries to connect with them, the traveler, the onetime bookseller, the writer at all stages of his writing life, and throughout it all, the attentive, passionate reader.
Praise For The Other Walk: Essays…
"More than revealing the insights he obtains through contemplation, Birkerts sheds light on the process of allowing connections to fuel ruminations that lead to a greater understanding of self. Readers will delight in the humor and insights conveyed in these enchanting and well-crafted essays." —Publishers Weekly, starred review
"Like a modern-day Proust, though at blessedly shorter length, Birkerts's keen eye and sinuous prose are triggered time and again by the humblest of objects. . . . [The Other Walk] should be picked up, reread and savored for its expressive beauty and its gentle reminder that we can find life's fullness amid its most inconsequential moments." —Shelf Awareness
"One of America's finest literary critics brings us 45 short autobiographical pieces meditating on the necessity and delight of quiet contemplation in a busy existence. . . . Sven Birkerts's thoughtful and elegant pensées reveal the enchantment awaiting anyone who slows down long enough to look." —The Barnes & Noble Review
"Birkerts' essays, many of them about fatherhood, some about his Latvian heritage, are full of the passage of time--nostalgia, regret, melancholy. . . . In each essay, he looks for 'the prompt, the sliver, the bit of grit that grows the pearl.' He looks for the 'smallest detail in the heart of the day.'" —Newsday
"[Birkerts] is one of the foremost essayists working today. He doesn't care about seeming cool or sounding smart; he writes what he thinks. In this new gathering, he combines his typically astute literary criticism with personal essays about his first post-college job at Borders Books in Ann Arbor, Michigan; the night he learned to play chess; and his reflections on Saul Bellow." —Chicago Tribune
"In his latest collection of [essays], Birkerts remains astute, witty and surprisingly sentimental. . . . It's impossible to read these close-to-the-ground essays without reminiscing on one's own past, connecting the dots between possessions and emotions, say, or reconciling memories of old lovers and friends with the way things turned out." —Kirkus Reviews
"Critic, memoirist, and all-around man of letters Birkerts is a virtuoso of the short essay. Each of the 45 concentrated, autobiographical meditations in this evocative volume offers a glimpse into the evolution of a writer's sensibility, both in the memories and the vignettes they preserve and in Birkerts' caressing of language and the pursuit of meaning. . . . Birkerts' poetic dispatches portray a life of fruitful steadfastness and inevitable change." —Booklist
"Very much about making connections between the vast details of life, time becomes as central a character across these essays as Birkerts himself. His voice is one marked--for the better--by time. . . . This is not a voice of lamentation or complaint. [Birkerts] is honest and straightforward, at times humorous and at others surprisingly sentimental, but always unapologetic." —Ploughshares
"The Other Walk comprises 45 short pieces . . . and with each, Birkerts considers his route with a keen eye, wit, and spare, elegant prose. . . . He succeeds in guiding us into his head, allows us to take his measure, then leaves us feeling as if we have traveled somewhere new." —NewPages
"Birkerts doesn't overwhelm with nostalgia but invites us into that part of his past to observe and slowly begin to understand our author and the events that have shaped him. . . . It is easy to settle into these stories and feel at home." —San Francisco Book Review
Graywolf Press, 9781555975937, 192pp.
Publication Date: September 13, 2011
About the Author
Sven Birkerts is the author of several books, including The Art of Time in Memoir, Reading Life, Readings, and The Gutenberg Elegies. He has taught at Harvard University and currently directs the Bennington Writing Seminars and is the editor of AGNI. He lives in Massachusetts.
or
Not Currently Available for Direct Purchase