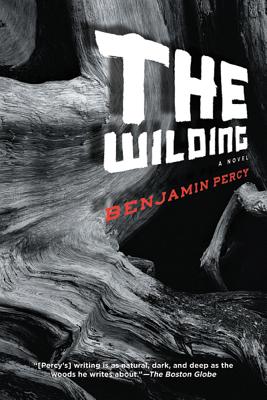 The Wilding
A Novel
Paperback

* Individual store prices may vary.
Other Editions of This Title:
Digital Audiobook (9/27/2010)
Audio Cassette (9/1/2010)
MP3 CD (9/28/2010)
Compact Disc (9/28/2010)
Compact Disc (9/28/2010)
Hardcover (9/28/2010)
Description
The Wilding by Benjamin Percy
A canyon earmarked for development as a golf resort. One last hunting trip in a vanishing wilderness. A grandfather, a son, and a grandson—plus one angry bear. Over the course of the weekend, each man will change in sharply contrasting ways.
Praise For The Wilding: A Novel…
"It's as close as you can get to a contemporary Deliverance." —Publishers Weekly (starred review)
"The men at the center of The Wilding, [Percy's] first novel, are not so much crafted as carved with a Buck knife from rough-hewn timber--splintery, deeply grained, primed to ignite. They are outdoorsmen and vets and suburban dads battling against the world, marriages and wars gone bad, lives that turned out wrong. And so they do what all men do, in their own ways: They take to the woods, to the gun, to another life. Fear and deadly choices come, because they always do--especially in the outdoors, especially in fiction by Benjamin Percy." —Esquire
"There are a hundred ways to feel frightened and lost in a forest, and the excellent, savvy Benjamin Percy can evoke them all. The Wilding, a brilliant literary novel that feels at times almost like Geoffrey Household's classic Rogue Male, seems to have been written on his vibrating nerve endings. This book is filled with dread, sadness, tension, and a tireless vision of mankind's thoughtless devastation of an ancient and more authentic way of life. It is almost impossible to put down. James Dickey must have been whispering to Ben Percy in his sleep." —Peter Straub
"Not your father's eco-novel. In compelling, image-driven prose, Benjamin Percy confounds the old polarities about wilderness and development by sending three generations of men into a doomed canyon, and letting so much hell break loose we can't tell the heroes from the villains-which feels exactly right. This is a dark, sly, honest, pleasing, slip-under-your-skin-and-stay-there kind of a book." —Pam Houston
"Benjamin Percy's descriptive powers are so potent and evocative in this impressive debut that they sweep the reader out of his or her figurative armchair and into the Oregon wilderness, ready to fight to the death to preserve it. " —Helen Schulman, author of A Day at the Beach and P.S.
"The Wilding is a compelling action narrative, universal in its dimensions while utterly grounded in specific particulars. Benjamin Percy is a stunning storyteller. His fearful wildernesses, both physical and psychic, kept me up through the night." —William Kittredge, author of Hole in the Sky and The Willow Field
"Benjamin Percy's The Wilding is a tour de force meditation and treatise on the nature of violence, the violence of nature, man in the wild, and the wild in man-cleverly disguised as a page-turning adventure. Not just a "must" read, but a need read, this book is timely, terrifying, terrific. " —Antonya Nelson
"The Wilding is a virtuoso blend of beauty and violence, hope and despair, tough and touching, lust and terror, literary craft and genre plotting. Like James Dickey, Benjamin Percy drags his characters into the wilderness--into a canyon as black as a gaping mouth, where they struggle to stay alive and in control of what makes them human-but for a new generation of readers concerned with the vanishing West. " —Danielle Trussoni, author of Angelology and Falling Through the Earth
"Full of bravery and bravado, and it fairly crackles with life. These stories mark the beginning of what is bound to be a long and brilliant career for Benjamin Percy." —Ann Patchett on Refresh, Refresh
Graywolf Press, 9781555975968, 280pp.
Publication Date: September 27, 2011
About the Author
Benjamin Percy is the author of The Language of Elk and Refresh, Refresh. He has been awarded the Plimpton Prize and a Whiting Writers' Award, and his work has been included in Best American Short Stories. He teachesat Iowa State University.
or
Not Currently Available for Direct Purchase